" Dear Hans, I enjoy your web site very much.

Thank you for doing it and for all the things you do to keep


the memory and music alive. Keep up the good work."



John Pickering, The Picks

| | |
| --- | --- |
| | by John Pickering |
| | from November 22nd, 2007: |
Hi Hans,



In my opinion, your web site presentation of The Picks

photos and story is the best. Thanks for the quick

coverage of the induction of "The Picks" (Bill, Bob, and

myself) into the 2007 New Mexico Music Hall of Fame.

It's amazing how much difference it has made to

"The Picks" now that people finally know who we are,

what we did, and when we did it. Thanks to facts

revealed after decades of anonymity in latter-day

writings, interviews, and web sites such as your own,

"The Picks" are now being recognized for their musical

contributions to "Buddy Holly and The Crickets".

I appreciate the part that you have played in that revelation.



Sincerely,



John Pickering


"The Picks"


A big THANK YOU to John, you made a fine job for all


the fans worldwide. Your narration was written with a


lot of passion. Hats off to you, John !


Hans






The following narration and the photos are

© Copyright 2007 by John Pickering.

They may not be copied or reproduced in

any manner without the expressed written

consent of John Pickering.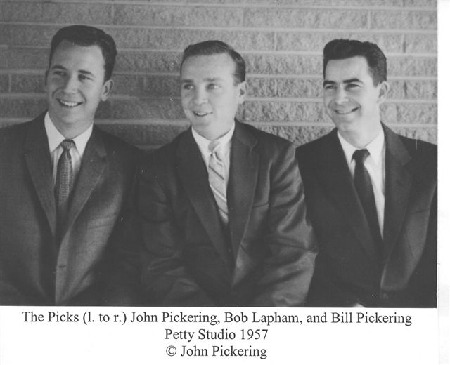 In 1957, a vocal trio called The Picks backed up Buddy Holly on nine of his first 12 Crickets releases.

Like the Coasters, the Drifters, the Penguins, the Diamonds,

and many other rhythm and blues vocal groups, the Crickets

featured a lead singer and three backup harmony singers.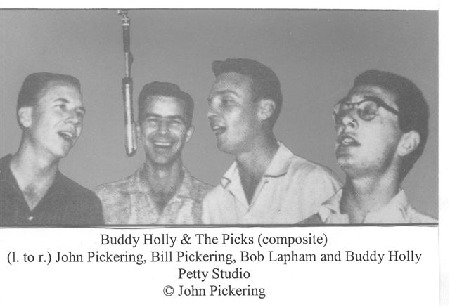 Buddy Holly was the lead singer, and The Picks first became harmony singers for him on July 13, 1957, replacing singers Gary and Ramona Tollett and Niki Sullivan who'd vocally backed Buddy Holly on live demo recordings of "That'll Be The Day", backed by "I'm Looking For Someone To Love." The demo recording of "That'll Be The Day" became the Crickets biggest hit, eventually reaching #1 (U.S.) and #1 (U.K.).

Instrumentalists for the above two songs were Buddy Holly (lead guitar), Jerry Allison (drums), Niki Sullivan (rhythm guitar), and Larry Welborn (bass).

On July 13th, The Picks entered the scene. By then, Joe B. Mauldin had replaced Larry Welborn on bass. Buddy had recorded "Not Fade Away" on May 29, 1957, and Buddy and Niki overdubbed the background chants. These three songs were the only "Crickets" recordings in existence at the time, and only two of them had been released.

On July 13, 1957, The Picks arranged and dubbed backup vocals on Buddy Holly's solo version of "Oh Boy". At this time "That'll Be The Day", though it looked promising, had not entered the national play charts in either the U.S.A. or the U.K., even though it was released on Brunswick (45) 55009 a month and a half earlier on May 27, 1957. It was a rather slow riser, entering Billboard's chart on August 3, 1957, a little over 5 months after it was recorded on February 25, 1957.

"Oh Boy" backed by the above-described "Not Fade Away" was not released on Brunswick (45) 55025 until October 27, 1957, about two weeks after 8 more Buddy Holly solos had been overdubbed with The Picks' voices and arrangements.

Three days of sessions on October 12-14 were required by The Picks to arrange and dub their voices onto Buddy Holly's solo versions of the following eight additional songs: "Maybe Baby", "It's Too Late", "You've Got Love", "Tell Me How", "An Empty Cup (and a Broken Date)", "Send Me Some Lovin' ", "Last Night", and "Rock Me My Baby".

After its release on October 27th, thirteen days after the above 8-song, 3-day sessions, "Oh Boy" entered the Billboard chart on November 16th, reaching a peak position at #10 (U.S.) and #3 (U.K.).

"Maybe Baby" backed by "Tell Me How" was not released as a single 45 (Brunswick 55053) until a little over 2 months after these same two songs were included on the first Crickets album ("The 'Chirping' Crickets", Brunswick 54038; Mono LP; 33 1/3 rpm; 1957).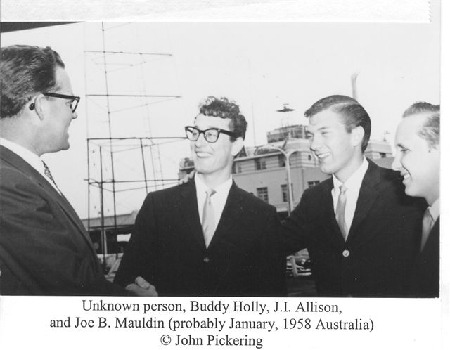 The album containing both "Maybe Baby" and "Tell Me How" was released on November 27, 1957, while the 45 rpm single of these two songs was not released until February 12, 1958. Fans who bought the album (the only "Crickets" album released while Buddy Holly was alive) already had the song. Still, as a 45 rpm single released on February 12th, "Maybe Baby" entered the national charts only ten days later on February 22, 1958, reaching #17 in the U.S. and #4 in the U. K. The single was actually a two-sided hit, as "Tell Me How" received lots of play and qualifies as a turntable hit, also.

The 12-song album ("The 'Chirping' Crickets"; Brunswick 54038; mono LP; 33 1/3 rpm; 1957) has been lauded by some critics as one of the greatest rock and roll albums of all time. The Picks backed Buddy Holly on 9 of the songs, all of which by now are million-sellers, having been released over the years on hundreds of records, cassettes, and CDs.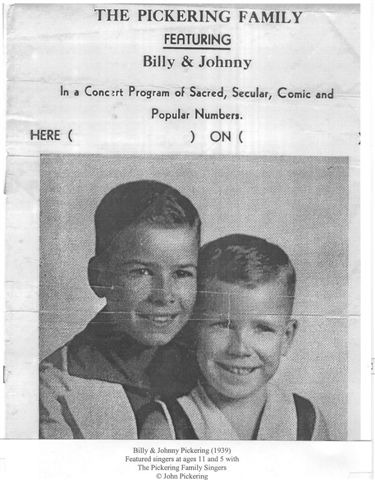 The Picks got their name from The Pickering Family Quartet (Mom, Pop, Billy and Johnny), who got started as a quartet on the radio in Tyler, Texas in 1939.

Billy had sung professionally since he was 6 years old in 1933, and Johnny, who was 6 years younger, made the trio a quartet in 1939.



In 1940, the family moved to Lubbock, Texas.

The family quartet then moved from KFYO Lubbock to KICA Clovis in 1941, and that's when they first met singer/pianist Norman Petty and singer/pianist Violet Ann "Vi" Brady – long before they married or formed a trio with Jack Vaughn.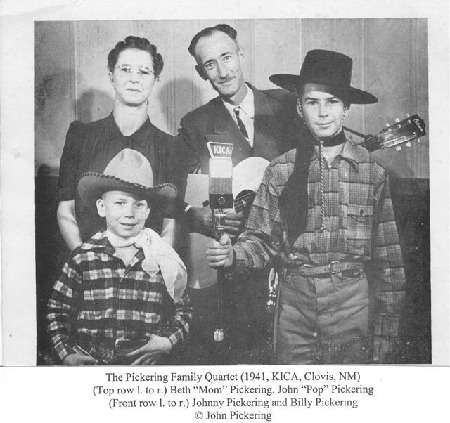 Norman had a daily piano show right after the early morning Pickering Family Show, and Billy and Norman soon became friends at Clovis Junior High School. They were both 14 years old.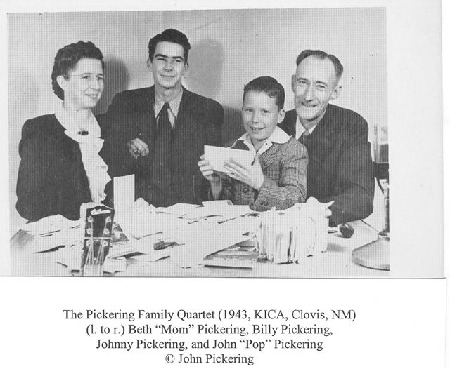 On Saturdays, the family quartet opened the studio for fans, and Vi Brady was a frequent visitor for the live show.

Billy introduced Norman Petty, a shy person, to Vi, and several years later, Vi Brady became Vi Petty.

Over the years prior to backing up Buddy Holly, Bill and John Pickering performed with their family quartet on various radio stations at Beaumont, Texas; Tyler, Texas; Lubbock, Texas; Clovis, New Mexico; Portales, New Mexico; Baytown, Texas; and Houston, Texas. One of the stations, Houston's KTRH, was a 50,000 watt station that covered a vast area of Texas. They moved back to Lubbock and KSEL in 1952.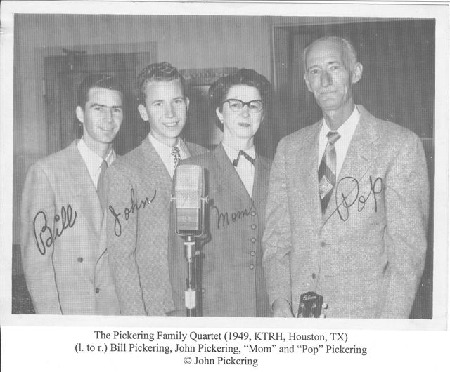 Over a 15-year period, the Pickering Family Quartet made hundreds of personal appearances in concerts and at singing conventions throughout Texas and New Mexico.

Pop Pickering died at the age of 52 on March 12, 1953, soon after a radio show on radio station KSEL, Lubbock. This was 4 days after his son John turned 20 years old. Jerry "Jaybird" Drennan (who was inducted into the Country Music DJ Hall of Fame in 2004), who'd sung at KICA Clovis with the family while Bill was in the Navy (1944 - 46), rejoined the family group for awhile, singing Pop's bass part.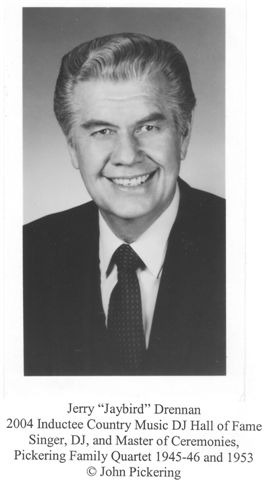 By the end of 1953, the Pickering Family Quartet (with Jerry Drennan) – singers of all kinds of songs, but especially gospel, quit performing as a group.

Mom retired, but Bill and John formed the Plainsmen Quartet in 1954, the Debonnaires Quartet in 1955, and John joined the Happy Rhythm Boys Quartet in 1956/57. He was still singing on radio and TV with that group when he and Bill, by then a deejay on KICA, Clovis, were asked by Norman Petty to form a trio to do vocal backup work at his Norman Petty Studio, located about 110 miles from Lubbock at Clovis, New Mexico. At the time, Bill at age 30 had been a professional for 24 years, and John at age 24 had been a professional for 18 years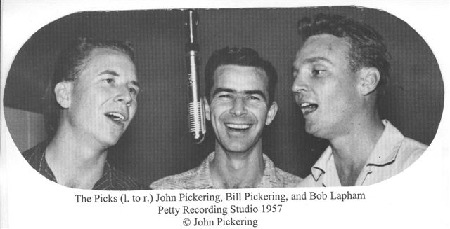 John invited Bob Lapham, a fellow Texas Tech student who'd never met Bill, and Bob agreed to sing baritone with Bill's first tenor and John's second tenor lead. Bob had never harmonized before, but Bill and John had been harmonizing in quartets, trios and duets, as well as soloing, for many years on radio and in concert. Bill taught Bob the baritone part after the trio arrived at the Clovis studio and listened to Terry Noland's solo recording of "Ten Little Women". This was their first experience with overdubbing, and it went well. This was probably early May, 1957.

After overdubbing Terry Noland, The Picks later overdubbed Jim Robinson ("Row Your Little Boat" and "The Man's From Texas"); recorded live with Ramona Locke; overdubbed Buddy Holly's "Oh Boy" on July 13th; recorded live with Gary Dale Tollett (along with the instrumental Crickets) on "Honey Honey" and "Look To The Future" on July 14th; recorded live in August with Sherry Davis; and recorded live with Rick Tucker in early September, 1957.

John married Vicky Billington of Lubbock, Texas on August 23, 1957 and moved to Corpus Christi, Texas, where he worked for Humble Oil & Refining Company as a Petroleum Geologist.

For the October sessions during which The Picks recorded 8 more Holly/Crickets songs, John and Vicky drove 12 hours Friday night and 12 hours on Monday night making a round-trip 1,340 mile trip from Corpus Christi, Texas to Clovis, New Mexico and back. This was not the first time they'd done that, nor the last time they'd do it.

In late December, 1957, The Picks did their last session at Clovis when they recorded two songs for Columbia Records selected by Norman Petty, neither of which was "rock and roll". They overdubbed the Norman Petty Trio's instrumental version of "Moondreams" (written by Norman) and "Look to The Future" (written by Niki Sullivan). The 45 rpm record (Columbia 41096) was released in early 1958.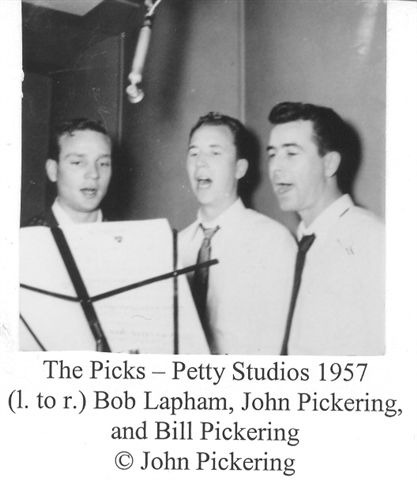 Soon after, John went to the U.S. Army Corps of Engineers as an ROTC 2nd Lieutenant, Bob Lapham joined the Army, and Bill (a WW II Navy veteran) went to California for awhile, soon returning to Lubbock.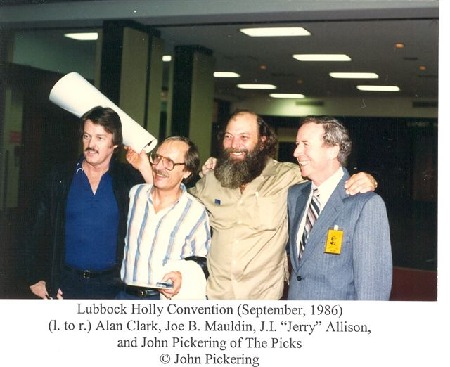 In 1958, a trio called "the Roses" (Ray Rush, Robert Linville, and David Bigham) became the background voices on 2 Cricket's 45s. They did 4 songs: "Think It Over", "It's So Easy", "Fool's Paradise", and "Lonesome Tears" that year.

There were a total of 16 songs recorded with Buddy Holly as lead singer of the "Crickets". The Picks backed 9 of those 16 songs.

John led music for several Baptist churches in Corpus Christi from 1957 to 1968. He soloed regularly and wrote songs, singing occasionally at various secular venues.

In the early sixties, Bill Pickering went back to Norman's 7th Street Clovis studio and recorded two sides as "Billy Duane". The 45 rpm single was released on Guyden Records (2050). The songs were "Angela" and "Two Lonely Teardrops" (co-written by Bill Pickering).

Bill eventually moved to Houston and actively soloed at church, while John kept singing at Corpus Christi, Texas and wrote songs. Gospel, county and pop.

In 1968, John was transferred to Houston by Humble/Exxon Oil Company, and the brothers were together, once again. Neither of them had ever heard their names nor that of The Picks mentioned with regard to "the Crickets" or Buddy Holly. They knew that The Picks had never been listed on labels or in liner notes, but Norman had always said that he and "the boys" (the instrumental Crickets) were telling everyone about The Picks.

Back together again, Bill and John practiced country songs John had written, preparing for a trip to Nashville, Tennessee as The Pickering Brothers in country music.

They felt that their work with Buddy Holly and the Crickets would put them in good stead at Nashville – opening doors for them.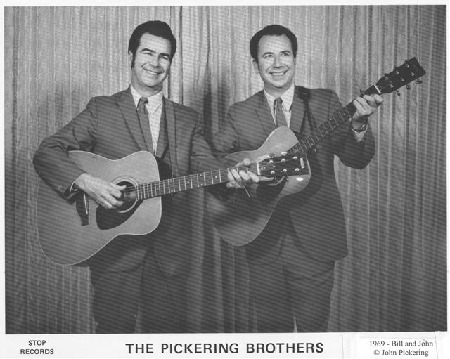 In May, 1969, they drove 873 miles to Nashville, arriving late in the evening, and after a good night's sleep, they simply hit the streets. They'd never seen "Music Row", and they were surprised that many of the record and publishing companies were located in converted frame houses on residential-looking streets.

With tape in hand, at ages 42 and 36, they just started knocking on doors. They had no idea that country singers past 35 were considered too old.

At the first likely-looking place, they told the receptionist they were backup singers for Buddy Holly and the Crickets back in 1957 and wanted an audition in country music. Told to take a seat, they waited an hour with nothing happening, then got up and left.

A short time later, they saw a sign on an office building that said "ABC Records" and decided to try their luck there. The receptionist named Jo Sapp was a very nice lady and knew who the Crickets were, but she'd never heard of The Picks. Bill's good looks came into play, and she decided to help the newcomers.

She was the receptionist not only for Paul Cohen, but also for Marty Robbins. She called Mr. Cohen on the phone, and he came to his door to meet Bill and John. He obviously had never heard of The Picks and told them that ABC wasn't looking for talent. He was very nice, but brief. This was the same Paul Cohen who'd signed Buddy Holly to a Decca contract in 1956.

Then, Jo Sapp called for Marty Robbins, and down the hall came Ray Pillow, who was a country star on his own right and managed Marty's publishing company. Ray also vocally backed Marty Robbins on songs like, "El Paso" – a monster hit. Ray visited with them for awhile and obviously believed what The Picks told him, saying that Marty was out of town, but would be sorry he'd missed meeting them.

Ray Pillow sent them to Tommy Allsup at Metromedia. They didn't know who Tommy Allsup was, and they were never sure if he knew who they were.

Still, the man in the white hat listened to the entire audition tape and asked if Bill and John used a certain instrumental group. The Picks, not knowing who he was talking about, just nodded. (Actually, the instrumental group on the audition tape was a forerunner of Houston's "Good, Bad, and Ugly" – with A.V. Mittelstedt).

Tommy asked what clubs they'd played in Houston, and the Pickerings just smiled and said, "Nowhere. We've just been singing all our lives." Nobody mentioned Buddy Holly or the Crickets. Somehow, that connection suddenly seemed ages ago.

Tommy Allsup said, "Well, I doubt if you'll wait, but if you'll come back in about 3 months I'll sign you." (In later years, Tommy confided that he knew who The Pickering Brothers were. But, The Pickering Brothers had no idea that they were talking to Buddy Holly's guitarist on such great songs as "It's So Easy", or that Tommy was with Buddy on the Winter Dance Tour). If they weren't so ignorant, they'd probably have waited and come back to Tommy and Metromedia.

But they left and went back to the receptionist at ABC. She sent them to see Pete and Jack Drake at Stop Records, mentioning that Pete had played steel guitar for Elvis Presley.

At Stop, a part-time local deejay listened to the tape. He called Jack Drake, who for 25 years was Ernest Tubb's bass player, and after listening, Jack Drake sent Bill and John to talk to Pete Drake, who listened intently to the audition tape.

Pete liked their voices, especially on a song John had written called "Close The Book". They were signed to Stop Records as The Pickering Brothers. Stop Records also had such artists as George Morgan and "The Jordanaires".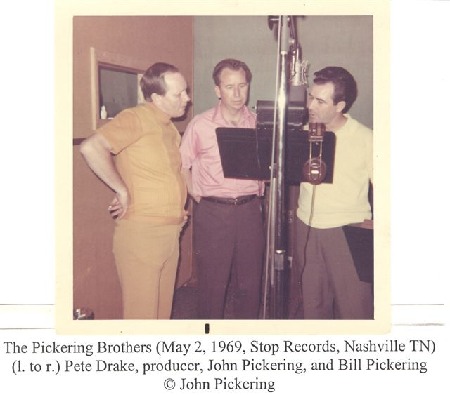 That night The Pickering Brothers recorded the first-released country version of John Fogerty's "Proud Mary". Pete Drake immediately sent out acetates to the top 50 country market stations.

The next day Bill and John visited House of Gold Publishing, where Jack Drake told them they'd find Bob Montgomery. They visited with Bob, after which he took them to meet Bobby Goldsboro, his partner at House of Gold. Bob introduced them as "the real Crickets". They didn't know what to say.

By the time they got back to Houston, The Pickering Brothers' acetate of "Proud Mary" (Stop-45; ST5673) was playing on the radio. A short time later, along with flip side "They Linger On", it was released as a 45 rpm single (Stop ST 282).

In 1969 and 1970, The Pickering Brothers had three sessions at Nashville, recording 8 songs. Soon after the release of "Proud Mary" they were making personal appearances, and on July 4, 1969, they opened for Charly Pride at the Corpus Christi Coliseum. There were 5,000 people in the audience.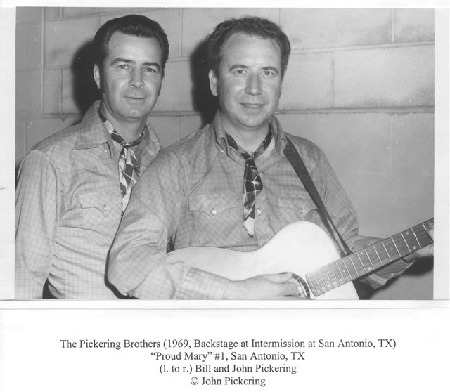 From the May, 1969 session, The Pickering Brothers' "Proud Mary" was number one on the country stations there, and reportedly made the top three in 18 different markets around the United States, including Nashville.



Their 8 Stop recordings were versions of "Proud Mary", "They Linger On", and "Close The Book" (May, 1969); "Oh Boy", "Don't It Make You Want To Go Home", and "Going Down To The River" (August, 1969), and "Words" and "You've Lost That Lovin' Feeling" (February, 1970). Bill and John wrote "They Linger On", and John wrote "Close The Book" and "Going Down To The River".

All the other 5 were cover songs of Creedence Clearwater Revival, The Crickets, Joe South, The Bee Gees, and The Righteous Brothers hits. The sessions were engineered by Scotty Moore, Elvis Presley's guitarist and owner of the studio – Music City Recorders.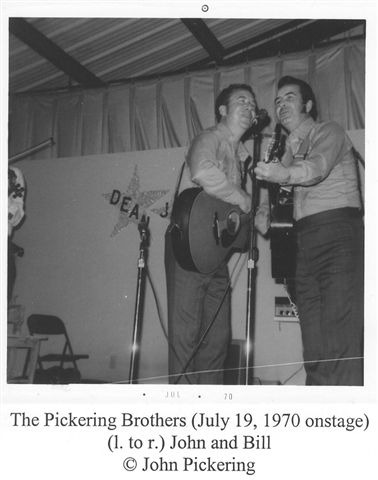 In addition to "Proud Mary"/"They Linger On" in May, 1969, there were two more Stop single 45s: "Going Down To The River"/"Don't It Make You Want To Go Home" (ST 347) in September, 1969 and "Oh Boy"/"Words" (ST 1572) in April, 1970.


Unfortunately, Stop Records went out of business because they couldn't get paid by "One-Stoppers" (record distributors), and The Pickering Brothers went on to record at Houston with Hall-of-Famer Ted Daffan on Daffan Records (two 45s in 1971) and R. M. Stone of Stoneway Records (five 45s in 1972-73), both of Houston.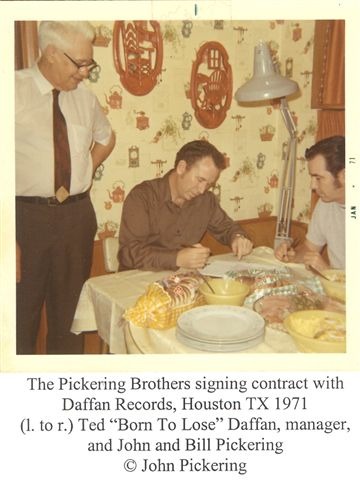 Unfortunately, Stop Records went out of business because they couldn't get paid by "One-Stoppers" (record distributors), and The Pickering Brothers went on to record at Houston with Hall-of-Famer Ted Daffan on Daffan Records (two 45s in 1971) and R. M. Stone of Stoneway Records (five 45s in 1972-73), both of Houston.

This amounted to 14 songs released in 3 years. John wrote 5 of them.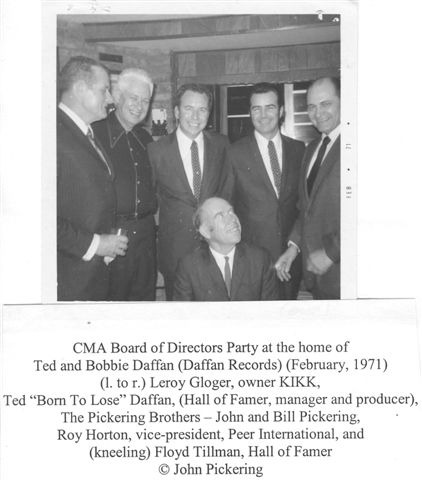 On October 8, 1973, Bill suffered a ruptured aneurism at the base of his brain. He almost died, but lived after 3 brain operations. In a coma for six weeks, he was blind for 2 years, miraculously regaining his vision in late 1975. He could not sing for 10 years, but recovered his voice in 1983.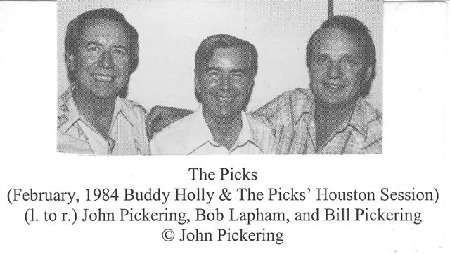 In 1984 the original Picks (Bill, Bob and John) overdubbed many more Buddy Holly solos at Sound Masters Studio of Houston, Texas, giving them a group-sound. It took a number of sessions over a period of time, but the result was "Buddy Holly and The Picks" recordings.

On January 25, 1985, only about 6 months after the 1984 overdubs, Bill Pickering died of complications after surgery for another aneurism, an abdominal aortic aneurism.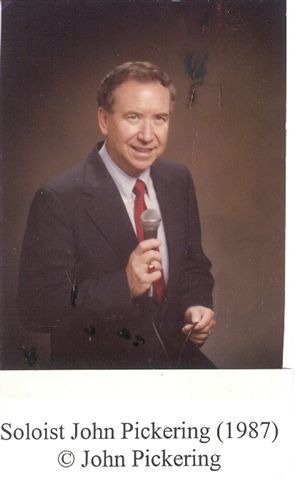 John Pickering continues to sing and occasionally record backups for such artists as Sonny West and Glenna Bell, plus continuing to solo.


Bob Lapham does some vocal backups for his son John Mark, who works with a successful British group called The Earlies.


Bob is a published author who lives at Abilene, Texas.

On February 13, 1987, John Pickering returned to Clovis, and on and off for three months, recorded more than 30 songs he'd written over the years.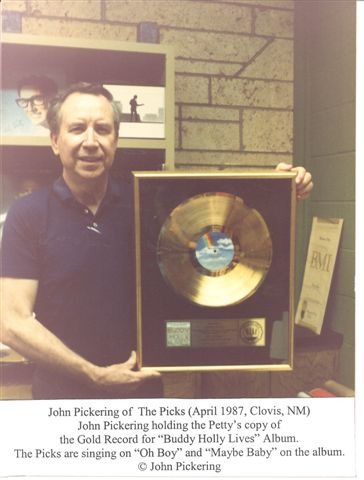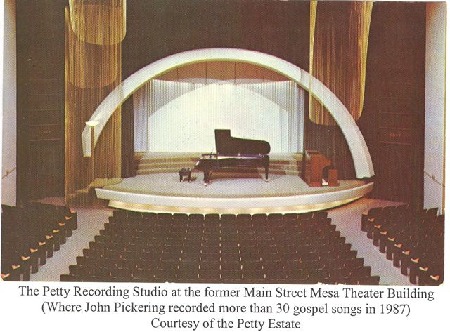 They were primarily gospel songs and were included on 3 cassette albums sold at personal appearances.

This time, John recorded at the downtown Petty Studio in the old Mesa Theater Building.

The songs also included John's solo version of Holly's "True Love Ways", overdubbed vocally by John Pickering and Vi Petty. John also did a gospel version of "True Love Ways" with lyrics he'd penned. John sang all three backup parts on some of the songs.

While there, Vicky and John stayed in the living quarters behind the old Norman Petty Studio on 7th Street and enjoyed visiting with Vi Petty, Kenneth Broad, and Jimmy Self, helping them plan the Clovis Music Festival of 1987.

Since 1982, John Pickering has been writing a book about his musical family - before, during, and after The Picks backup work with Buddy Holly. He will finish it this year of 2007, in commemoration of the 50th anniversary of the release of "The 'Chirping' Crickets" album.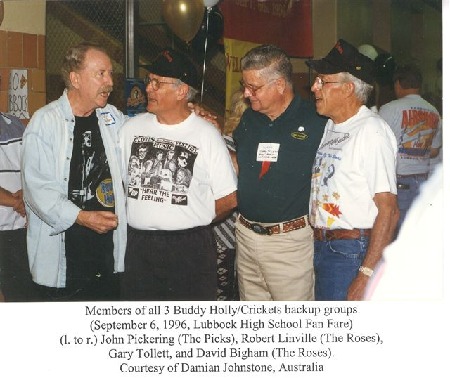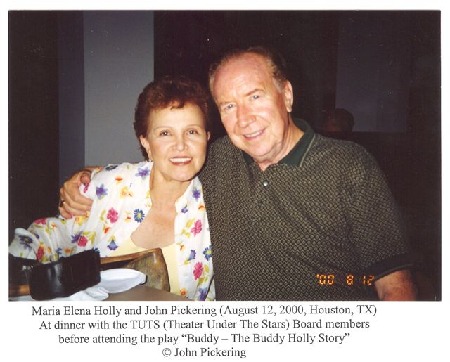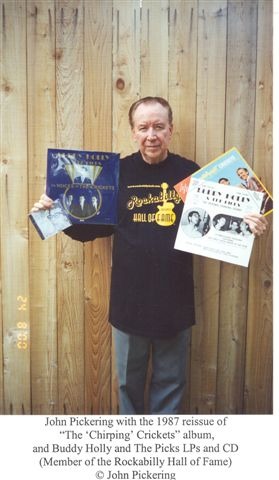 As a final note, The Picks have long been supportive of Buddy Holly events, beginning with meeting Bill Griggs in 1981 at Lubbock, where John often visited his mom, Beth Pickering and his brother Bill, who lived with her there.




Thanks to Bill Griggs and other great fans, The Picks learned about the BHMS and other fan clubs. Bill Griggs has been instrumental in helping to reveal who The Picks are.



The Picks were shocked and greatly saddened by Buddy Holly's untimely death, and along with many others assumed that his musical career was over. For years thereafter, there seemed to be no appropriate way to reveal their musical relationship with him, even though recognition was to be their primary reward. It was, in fact, about 20 years before they ever heard the name of The Picks associated with Buddy. And then, it was Norman Petty who mentioned it on a British telecast about 1978.

The Picks know that Buddy Holly was and still is the star of all his recordings, "Crickets" and otherwise. They know that they were privileged to be even a small part of his early career. Nothing they would ever say or do would be designed to take away from the great musical contributions of Buddy Holly. They support him and his memory whenever they can, just as they did in that small studio at Clovis, New Mexico – 50 years ago.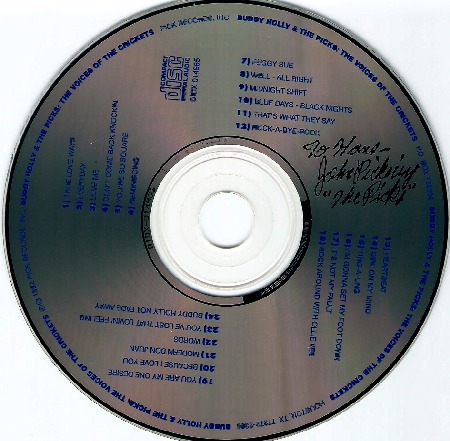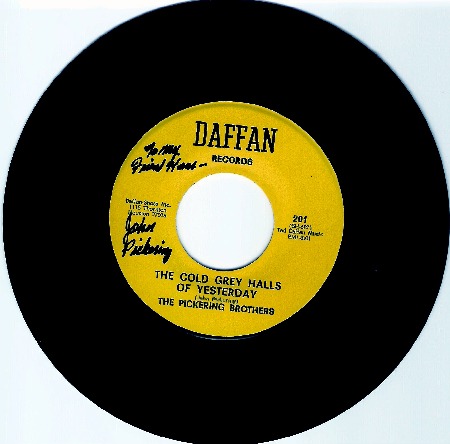 Virgin 45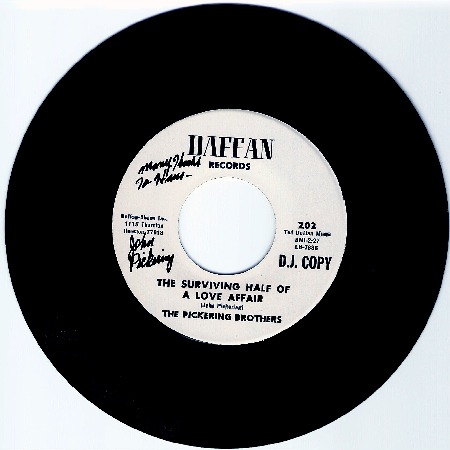 Virgin 45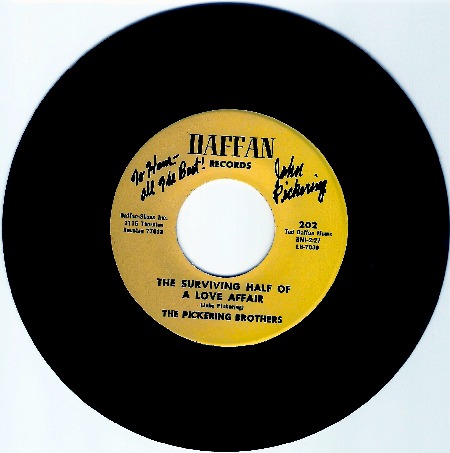 Virgin 45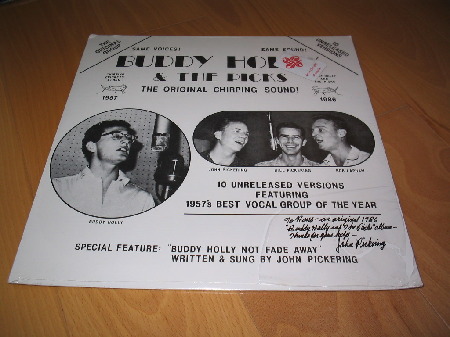 Factory sealed with original autograph of John Pickering.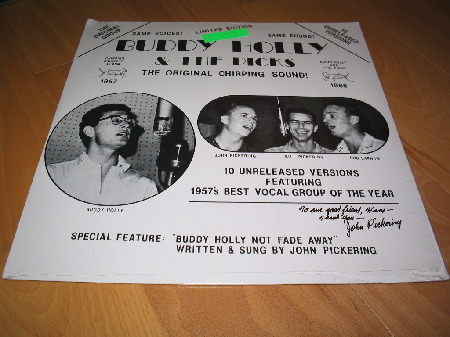 Noch versiegelt mit Originalautogramm von John Pickering.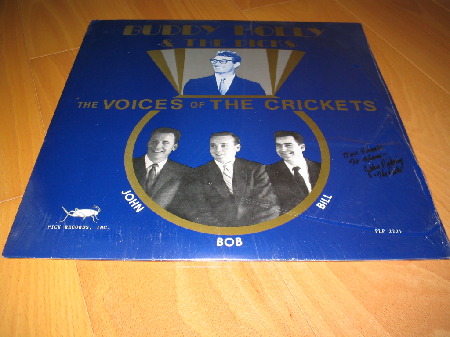 Still factory sealed with original autograph by John Pickering.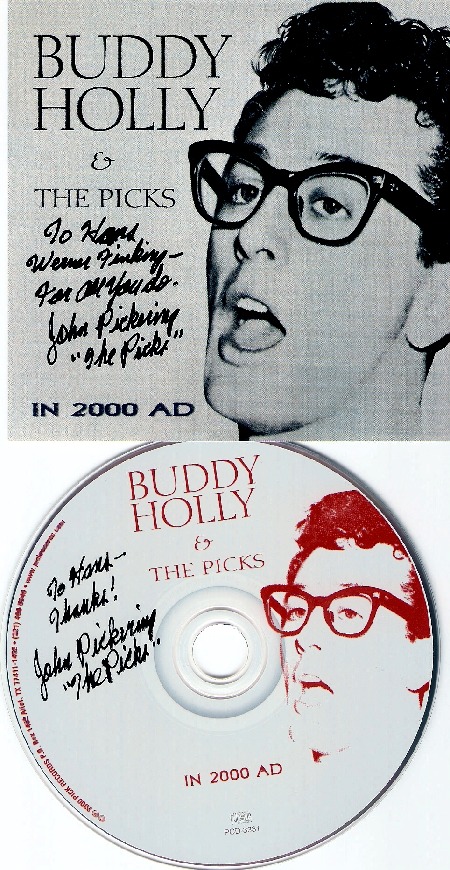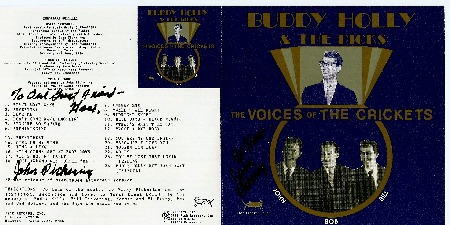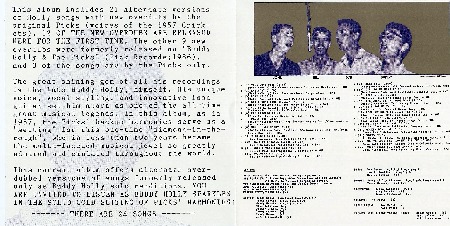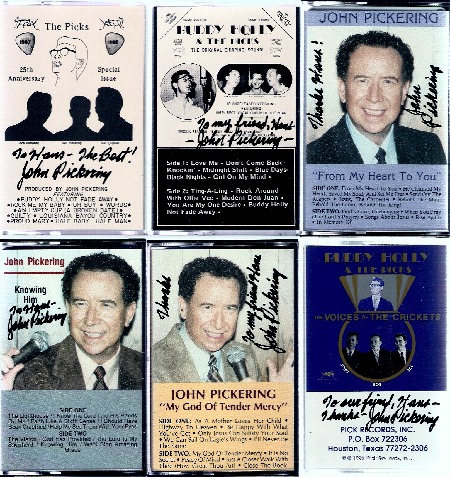 Original autographs by John Pickering.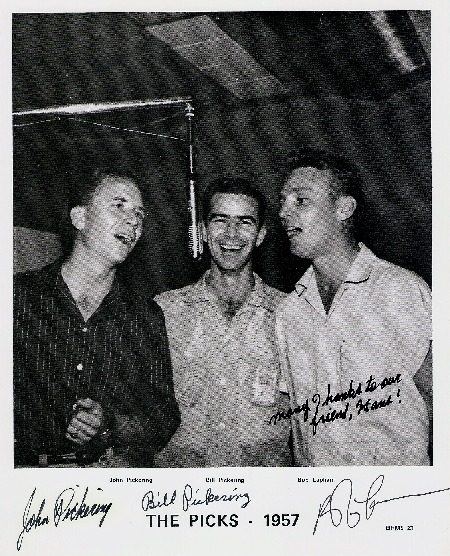 With ORIGINAL AUTOGRAPHS of John and Bill Pickering (he died in 1985) and Bob Lapham.

e-Mail von Vicky Pickering vom 19. November 2007 :
___________________________________________________


Hans,

. . . . . . . (I left out a private message at the beginning) . . . . . .




Houstonian, John Pickering of Buddy Holly and The Picks, and the late Bill Pickering of Houston and Bob Lapham of Abilene, Texas (retired entertainment editor of the Abilene (TX) Reporter-News were inducted into the 2007 New Mexico Music Hall of Fame and Museum.



November 10, 2007 "The Picks", John and Bill Pickering and Bob Lapham were inducted into the 2007 New Mexico Music Hall of Fame and Museum in Albuquerque, New Mexico.


The ceremony was held at the Roy E. Disney Theatre for the Performing Arts at the world-class uniquely designed and impressive National Hispanic Cultural Center. The beautiful campus is located along the banks of the Rio Grande in the historic Albuquerque neighborhood of Barelas.

The Picks were inducted for the musical work they did in the summer of 1957 at the Norman Petty 7th Street Studio at Clovis, New Mexico for Buddy Holly and The Crickets, as well as The Picks' recordings for Columbia Records, the Norman Petty Trio, and for various other artists including Terry Noland, Niki Sullivan, Gary Dale (Tollett), Sherry Davis, Ramona Locke, Rick Tucker, and Jim Robinson.

The daily radio shows and numerous personal appearances of The Pickering Family Quartet - Mom (Beth), Pop (John M.), Bill and John in New Mexico in the 1940s also contributed to the award.

The induction was made by the Lance Monthly editor, Dick Stewart of Sandia Park, NM.

Singer/songwriter Sonny West (writer of Buddy Holly hits "Oh Boy" and "Rave On") was a special guest as well as John's wife, Vicky from Houston, TX and daughters Paula and Lisa from Dallas, Texas.

Bob's friends from Abilene, Texas, the Jim Roses' and the Estes' were also special guests. Michael E. Sanchez is President of the New Mexico MusicHall of Fame and Museum. The award ceremony was followed by the New Mexico Hispano Entertainers Award Show.


Thanks.


Vicky Pickering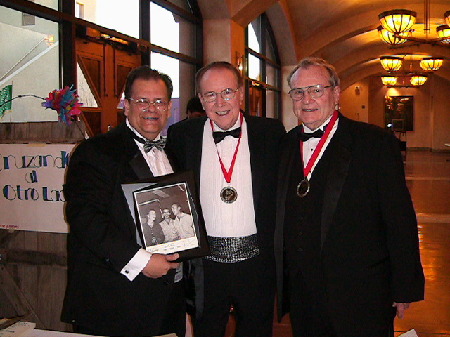 Oct - Nov 2007 073 - (l. to r.) Michael E. Sanchez, President of the 2007 NM Music Hall of Fame and Museum; John Pickering and Bob Lapham of The Picks.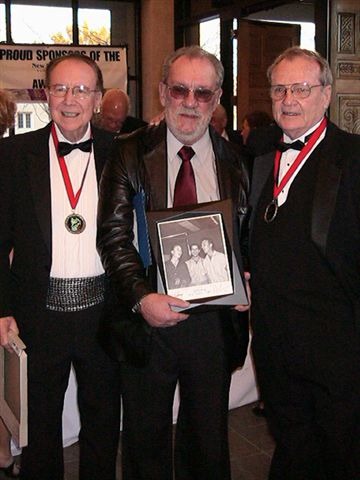 Oct - Nov 2007 080 - (l. to r.) John Pickering, Dick Stewart and Bob Lapham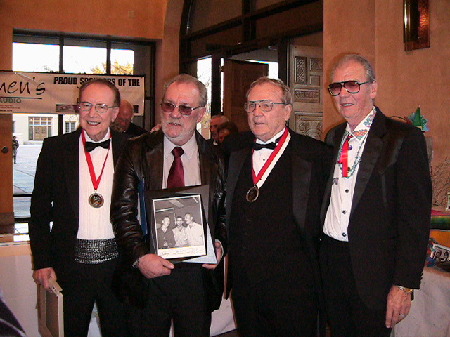 Oct - Nov 2007 081 - (l. to r.) John Pickering of The Picks of Houston, Texas; Dick Stewart of Sandia Park, NM inductor and editor of the online magazine "Lance Monthly"; Bob Lapham of The Picks from Abilene, Texas

and singer/songwriter Sonny West who wrote "Oh Boy" and "Rave On" from Abilene, Texas.

Another e-mail from Vicky & John Pickering :

Hans,

here are 3 pictures taken at the induction.

Here are photos that our daughter, Paula Robinson, took at the NM Hall of Fame event. You have our permission to use any or all of these pictures, owned by her.

The black and white picture in Mike Sanchez' hand (073) and inductor Dick Stewart's hand (080 and 081) is a 1957 photo of The Picks, signed by all three members. John presented one to each of them in appreciation of their efforts on The Picks behalf. The third member of The Picks, John's brother Bill, died January 25, 1985 in the V.A. Hospital in Albuquerque. It is ironic that he was inducted into the NM Hall of Fame in the same city 22 years later. Special guest in attendance was former New Mexican resident singer/songwriter of Buddy Holly's hits "Oh Boy" and "Rave On" - Sonny West.

The induction was held at the National Hispanic Cultural Center

Michael E. Sanchez is President of the 2007 NM Music Hall of Fame and an entertainment lawyer in Rio Rancho, NM.

Information on The Picks/John Pickering, Bob Lapham





1. The West Texas Music Hall of Fame

The 2006 Music Pioneer Award Presented to THE PICKS (John Pickering, Bill Pickering & Bob Lapham).

2. The Clear Lake, Iowa Surf Ballroom invited John and Vicky Pickering to be guests at the 2009 "50 Winters Later" commemoration of the airplane crash and deaths of Buddy Holly, The Big Bopper, and Ritchie Valens.



3. The Texas State Senate in the Texas State Capitol in Austin, Texas on 02-23-09 honored The Picks (John Pickering, Bob Lapham and the late Bill Pickering) for their musical and artistic contributions to the State of Texas for over 50 years with a resolution that was read in the Senate by Senator Robert Duncan of Lubbock, Buddy Holly's hometown.

The web site is:

http://www.senate.state.tx.us/avarchive/

Click on "Feb 23 Senate Session". Then advance to 26.09 minutes.

Additional sites can be found on the Internet including:

http://www.myfoxaustin.com/dpp/news/022309_the_crickets_finally_recognized

4. The Picks are in the Lubbock (TX) Music Honor Roll in the www.jerrynaylor.com .

5. On 02-24-09 in New Braunfels, TX, John and Vicky Pickering visited world famous writer, artist, and photographer Paul Heidelberg. Mr. Heidelberg took photos, videos and interviewed John.

See:

http://www.musicoftheworldxxi.blogspot.com:80/

and

www.paulheidelberg.com .

6. In early 2009, Bob Lapham released his fifth published book a novel, Ethan's Keys. It is edgy fiction bulwarked by religion ("looking for Christ in all the wrong places") but also including themes such as adventure, adultery, homosexuality, romance and murder.

See http://www.ethanskeys.com.

Other books by Bob are

Twenty Years of Life Begins at Forty,

What Made Wyatt Urp,

The Wild Blue and Family Too,

and

Meet Me At The River Buddy Holly.

John Winton Pickering died on February 28, 2011,

in Houston, Texas, following complications after

a stroke, aged 77.

Bob Lapham, 83, the last surviving member of the

1950s pop and rock 'n' roll vocal group The Picks,

died on April 4, 2018.