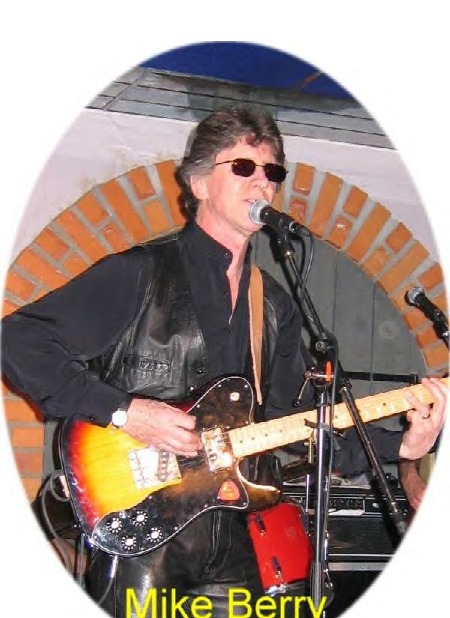 Mike Berry, singer of the unique song "Tribute to Buddy Holly", signed my guestbook.

He was very impressed reading my pages about the Clovis Music Festival 2006, "LOVE CLOVIS" with a lot of Mike Berry and the Outlaws stuff. John Beecher, author of the great article, told me about this.

I'm happy to present a special page dedicated to one of the music heroes of my youth: MIKE BERRY

Mike Berry, der Sänger des legendären Songs "Tribute to Buddy Holly", trug sich in mein Gästebuch ein.

Er hatte mit viel Vergnügen den Bericht "LOVE CLOVIS" über das Clovis Music Festival 2006 von John Beecher auf meiner Homepage gelesen und daraufhin den Eintrag geschrieben.

Ich bin glücklich, ihm zu Ehren eine separate Mike Berry Seite hier vorzustellen. Er ist und bleibt ein musikalisches Idol meiner Jugend.

Noch heute krame ich die Original His Masters Voice 45er Vinyl Single von 1961 mit dem blauen Mittelteil hervor und spiele diese knisternde Kostbarkeit, die damals auf wirklich keiner Party fehlen durfte.

Der erste Text gefiel mir wesentlich besser als die zweite Version. Mit dem ersten Text gab es bei den Rundfunkanstalten große Probleme. Sie wollten die Platte nicht spielen, konnten aber ob des riesigen Erfolges irgendwann Anfang 1962 nicht anders, als umzudenken. Dabei fand ich den ersten Text nicht verdammungswürdig, sondern einfach als etwas, was aus der Seele eines Fans in Musik verpackt wird. Es gab ja noch so ein ähnliches Beispiel mit Rundfunkboykott: "Tell Laura I love her". Aus heutiger Sicht Schwachsinn, was die Sender da für eine Welle machten.

Ich war damals der DJ, da wußte ich genau, was ankam auf einer Tanzveranstaltung oder nicht. Mike war ein absolutes Muß.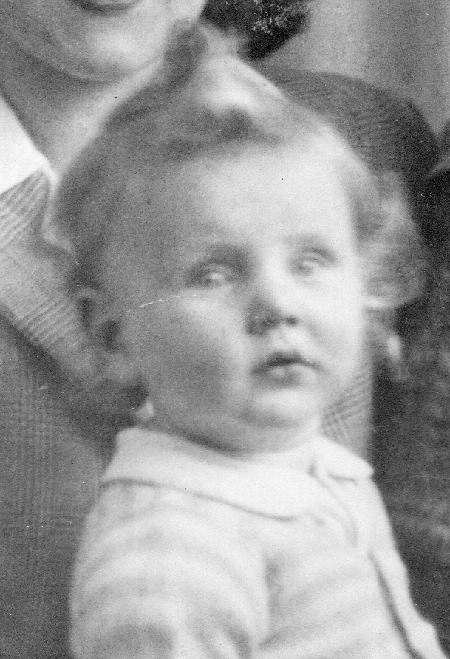 Jeder fängt mal klein an. Ich hätte gewettet, ein Mädchen zu sehen auf diesem Foto, total daneben. Das ist Mike im Alter von 7 Monaten.

At first sight I thought it was a girl, I was totally wrong.

It's Mike aged 7 months.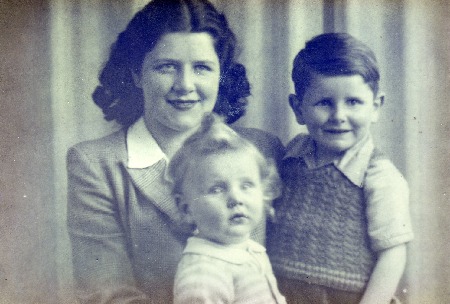 Hier ist das komplette Foto mit Mutter und Bruder.

This is the complete photo with Mom and his brother.




Mike has made many recordings stretching over a period

of 40 years in numerous countries.



One Night Stand (EP) 5 Columbia 1963 Robert Stigwood

Drift Away 12 York 1972 Jack Winsley

Rocks In My Head 14 Polydor 1976 Miki Dallon

Best of British Rockabilly (Compilation) 2 Sonet 1978 Peter Eden

Sunshine Of Your Smile 12 Polydor 1980 Chas Hodges

Memories 12 Polydor 1981 Chas Hodges

Hooked On No 1's (Compilation) 8 K-Tel 1984 Geoff Morrow

Rollercoaster Rockers (Compilation) 1 Rollercoaster 1984

Tribute To Buddy Holly 10 Silverstar 1986 Miki Dallon

Sounds Of The Sixties 15 Rollercoaster 1989 Joe Meek

Dedicated To You (Compilation) 1 Platinum 1983

Rock 'n' Roll Boogie..Plus 18 C5 1990 Miki Dallon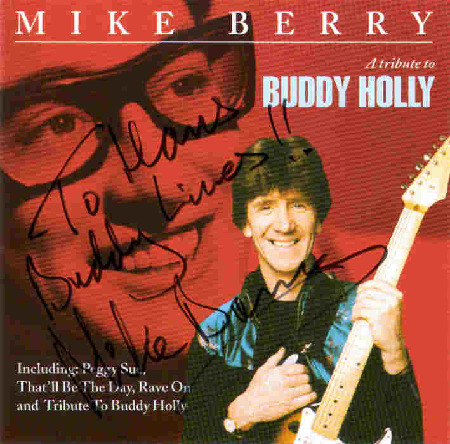 MIKE BERRY

A tribute to Buddy Holly 14 Hallmark 1995 Mike Berry

Sunshine Of Your Smile (EP) 4 Rollercoaster 1995 Mike Berry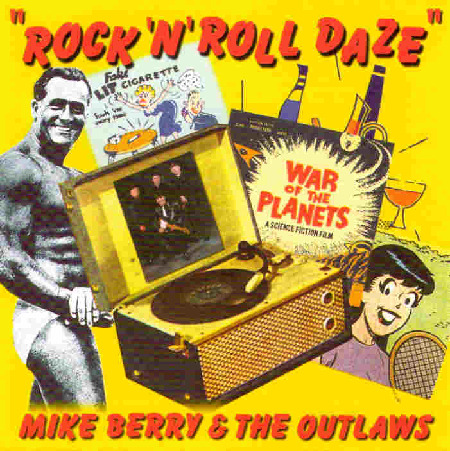 ROCK ' ' ROLL DAZE - Mike Berry & The Outlaws

Rock 'n' Roll Daze 16 Rollercoaster 1998 Mike Berry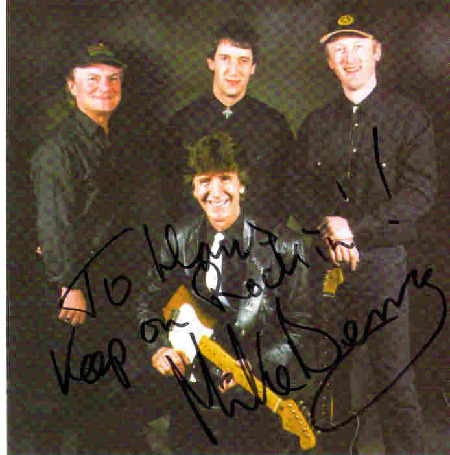 Mike Berry & The Outlaws

Keep Your Hands To Yourself! 21 Rollercoaster 2002 Mike Berry & Brian Hodgson

Don't You Think It's Time 40 Castle 2003 Various

Joe Meek Shall Inherit The Earth (Compilation) 3 Western Star 2004 Alan Wilson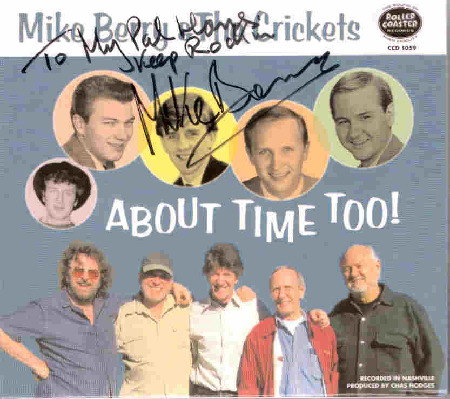 Mike Berry & The Crickets - ABOUT TIME TOO !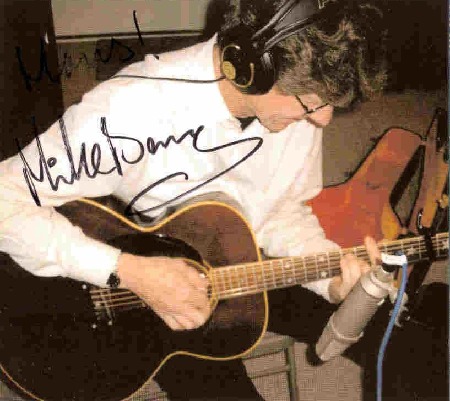 Mike Berry

About Time Too 18 Rollercoaster 2005 Chas Hodges

Before I Grow Too Old (EP) 4 Rollercoaster 2006 Chas Hodges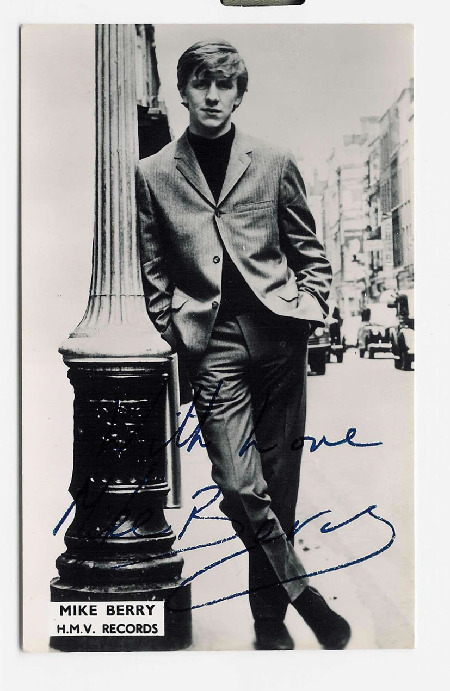 Mike Berry




Will You Still Love Me Tomorrow My Baby Doll Decca Jan 1961 Joe Meek

Tribute To Buddy Holly Whats The Matter HMV Oct 1961 Joe Meek

Just A Matter Of Time Little Boy Blue HMV Jan 1962 Joe Meek

Every Little Kiss How Many Times HMV July 1962 Joe Meek

Don't You Think It's Time Loneliness HMV Dec 1962 Joe Meek

My Little Baby You'll Do It, You'll Fall In Love HMV April 1963 Joe Meek

It Really Doesn't Matter Try A Little Bit Harder HMV Aug 1963 Joe Meek

On My Mind This Little Girl HMV Jan 1964 Robert Stigwood

Lovesick Letters Of Love HMV April 1964 Robert Stigwood

Who Will It Be Talk HMV June 1964 Robert Stigwood

Two Lovers Don't Try To Stand In My Way HMV Nov 1964 Robert Stigwood

That's All I Ever Want She Didn't Care HMV Feb 1965 N. Smith

It Comes and Goes Gonna Fall In Love HMV Sep 1965 C. Blackwell

Warm Baby Just Thought I'd Phone HMV May 1966 M. Vickes

Raining In My Heart Eyes Polydor Feb 1967 S. Komlosy

Catch The Wind Girl From Indiana P.F Oct 1970 Carter/Lewis

Going Down To Virginia Love Her York Mar 1972 Winsak

Drift Away Keep My Eyes On The Road York Sep 1972 Winsak

Now That I'm Without You 509 York July 1973 Winsak

Don't Be Cruel It's All Over RAK Feb 1975 Miki Dallon

Tribute To Buddy Holly Dial My Number Polydor Mar 1976 Miki Dallon

Take a Heart Hey Joe Polydor Oct 1976 Miki Dallon

I'm A Rocker It's A Hard Hard Hard World Polydor May 1977 Miki Dallon

Don't Ever Change Take Me High Polydor April 1978 Miki Dallon

Stay Close To Me Hey Joe Lightning Feb 1979 Miki Dallon

Sunshine Of Your Smile I'm As Old As Paul McCartney Polydor July 1980 Chas Hodges

If I Could Only Make You Care One More Love Story Polydor Feb 1981 Chas Hodges

The Anniversary Song Goodbye California Polydor Feb 1981 Chas Hodges

Diana Words Polydor Mar 1981 Chas Hodges

Memories Julie Come Back Polydor Aug 1981 Chas Hodges

What'll I Do Can A Man Love One Woman Polydor Jan 1982 Barry Farmer

Like A Fool Blue Skies Polydor Mar 1982 Barry Farmer

'Til We Meet Again Through Noon And Goes On Polydor June 1982 Barry Farmer

Every Little While Stop Dreaming Rockney May 1983 Chas Hodges

Holly Heaven Out Of Hell Switchback 1985 Berry/Simpson

One Heart To Go Heaven Out Of Hell Polydor Mar 1986 Berry/Simpson

Come Outside Give It A Try WEA Dec 1986 Berry/Simpson

You're Already Gone Laughing And Loving Breakheart Oct 1987 Berry/Hodgson

Hissing Sid's Paranoid Blues Heaven's Up Firstnight 1990 Jim Parker

Fools Paradise I Believe Rollercoaster 1991 Berry/Hodgson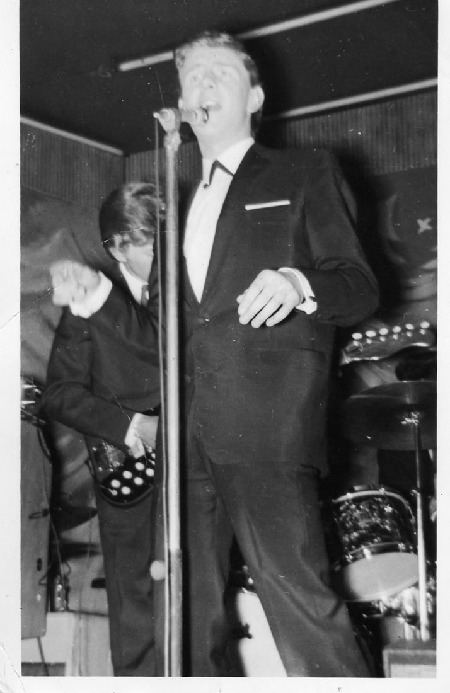 Mike Berry 1961




Can't Your Hear My Heartbeat Alice Germany 1967 Metronome

I'm A Rocker Devil's Disciple New Zealand 1973 Polydor

I'm A Rocker Everybody Do It Germany 1973 Red Point

Don't Be Cruel It's All Over Holland 1974 Pink Elephant

Tribute To Buddy Holly Dial My Number Holland 1975 Pink Elephant

Baby I Don't Care For Me And For You Belgium 1975 Pink Elephant

Tribute To Buddy Holly Dial My Number Germany 1976 Hansa

I'm A Rocker It's a Hard Hard Hard Hard World Germany 1977 Philips

Mike Berry and The Outlaws 1960




Mike Berry 12 Germany/Bellaphon - Miki Dallon

Tribute To Buddy Holly 12 Holland/Pink Elephant 1975 Miki Dallon

I'm A Rocker 10 USA/ Cleveland 1979 Miki Dallon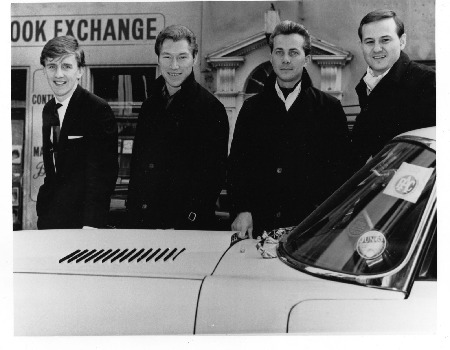 Mike and The Crickets in Soho, 1962


Mike Berry was born 'Michael Bourne' in Northampton, but six weeks after his birth, his mother, Jerretta, 'Jet' for short, took him to North Wales where they stayed with her father's Welsh side of the family. Her mother, Effie Mabel, was a Fotheringham. (The Scottish side of the family).

Mike's grandfather, William Thomas, or 'Billy', as he was known, was in Rhodesia (now Zimbabwe) with the Royal Rhodesian Mounted Police at the time, where, with his rich baritone voice, he had established himself as a popular singer. This is no doubt where Mike inherits his singing talent.

His mother was also a talented amateur actress and singer in the Gilbert and Sullivan mould who also played piano and piano-accordian, and Mike and his siblings used to attend all her performances.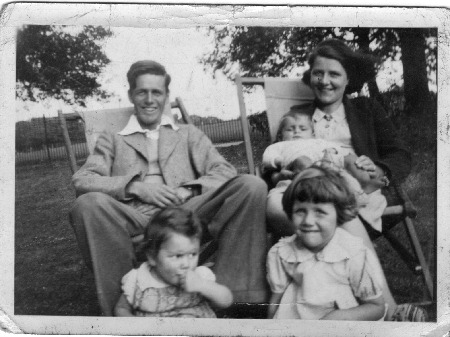 Berry Family photo from 1939

Mike's father Terry, originally from Hove in Sussex and representing the English branch of the family, was totally unhindered by any musical talent but Mike did inherit his interest in all things mechanical and gadgets in general. Mike is a dab hand with a soldering iron and also can often be found under the bonnet of (or even under) his car. He also helped build and runs his own 'Bulletproof Recording Studios', situated at the bottom of his garden and often referred to as 'The Shed'.



Both his mother and father were brought up in Rhodesia but ironically met in England while she was attending a 'Pitman's' shorthand and typing course with his sister, who introduced them. The family, including Grandad Billy, 'Nanny' Effie and Mike's sisters Valerie, Pamela and brother Peter, all moved to Clissold Road, Stoke Newington, London N16; Grandma and Grandpa Thomas to number 64, and The Bournes to number 47. A couple of years later, they moved - literally round the corner - to 185 Albion Road, from where, at the age of five, Mike attended his first school, 'William Pattern' infants and junior mixed, in Church St. N16. He excelled at this school, and at the age of 11 years won a scholarship to Hackney Downs Grammar School, formerly 'The Grocer's Company's School', later to become known as the 'East End Eaton', nurturing such luminary pupils as Harold Pinter, Arnold Wesker, Steven Berkoff and many other distinguished scientists, doctors, lawyers and politicians. Sadly, and ironically, it was closed in the 90s as one of the worst achieving/behavioural schools in the U.K.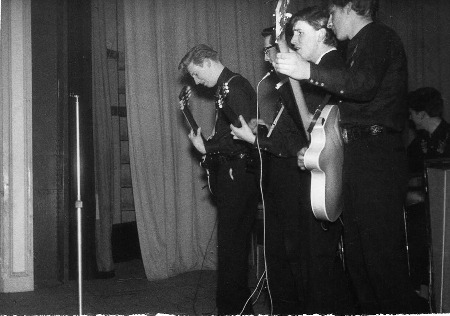 1961, Mike and the 2nd generation of the Outlaws

Unfortunately Mike's family life was rather falling apart just when their support was needed. His mother and father separating when he was 13 years old, and no doubt with his father's words, uttered in Mike's presence and referring to his four offspring ringing insistently in his ears (as they still do) - "The four biggest mistakes of my life". This surely affected his academic performance, to the extent that he didn't even take 'O' levels and so didn't join the list of his school's academic geniuses. Instead he left rather ignominiously at the age of fifteen to take up a six year apprenticeship in the then very highly regarded printing industry as a compositor's apprentice (the men who set the lead type for the printed page). A job for life?! Yes! If it wasn't for the advance of technology and computers being invented!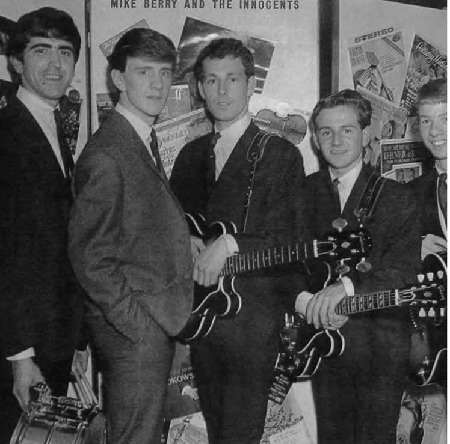 Mike Berry and The Innocents

By this time, Mike's vocal talent was becoming apparent and his interest in music was really taking hold, so with friends Peter Chilks (Chico) Terry Lyddington, and Ray ?? (Can't remember) he formed his own skiffle group 'The Rebels'. By then skiffle was sweeping the country in the wake of Lonnie Donegan's "Rock Island Line" and the likes of Chas McDevitt and Johnny Duncan. With Ray and Peter on guitars, Terry on Tea chest Bass, (complete with dancing hands and feet and 'Rebels' logo lovingly painted on), and Mike on washboard and vocals, they rehearsed in the boiler room underneath the 'Community Centre' in Mike's old flats and did the odd gig in the community hall itself. No money of course, in fact they'd have paid to play.

It was while with The Rebels, Mike wrote his very first song, an ode to a love he'd nurtured since the age of eight and who, much to his delight, turned up to one of his 'gigs'. The song was very subtly entitled 'Sweet Leslie Ann' (Leslie Ann Eagle, that is) and although he walked her home afterwards he never followed up the obviously mutual interest, so that was the last they saw of each other. All together - Aaaaaaah ……………

And for those of you interested - or not - the Byronesque lyric went something like this ….

"Sweet Leslie Ann is still in her teens
She sure looks cute in her old blue jeans
All the guys turn when she walks by
'Cos that little girl really catches the eye
Oh - oh Swe – et Leslie Ann etc..."

Lyrical shades of Larry Williams's 'Bonie Moronie',

from 'The Rebels' early repertoire.

Stunning eh? …… Plagiarism lives!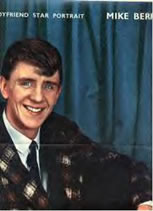 1963

During the aforementioned apprenticeship Mike progressed from the Skiffle group to a band with electric guitars in which Mike just sang - no washboard required now, as they had a drummer, even if he only had one drum! The band called themselves - wait for it! "Kenny Lord and The Statesmen". Get it? …. Lord? …. Statesmen? ………… Clever eh!? So anyway, there was this beatnik called Alan, who worked with Mike in the print. He was also in a skiffle group and knew of a 'recording studio' (actually someone's Mum's front room) in Wandsworth, south London, where he said Mike and his band could make a demo, the idea being to play it to venue owners with a view to getting gigs, and even to get a record company to make them stars overnight. As north London boys they looked on south London as a foreign country, so one weekend having booked the 'studio' in Wandsworth and with passports in hand they crossed the border into south London and arrived somehow at Magdalen (pronounced for some crazy reason,'Maudlin') Road, Wandsworth and met John Hawkins, 'studio' owner and engineer.

The studio was about a mile from where Mike lives now. Mike remembers the scene...."We set up our equipment in John's front room which, to achieve some instrument separation, was divided up by blankets hung on ropes across the room. Quite ingenious really. The drums … I mean drum, was set up in one compartment and the bass guitar, lead and rhythm guitars likewise, while I had my very own vocal booth consisting of two sides of polythene sheeting, a blanket and a wall." The microphone Mike sang into was a Reslo ribbon model, which cost about eight pounds - about an average worker's wages for a week at the time.

The songs they performed for their recording debut were, 'Please Don't Tease' a Cliff Richard current No. 1, 'Dream Lover' a recent Bobby Darin hit, Gene Vincent's classic, 'Be Bop A Lula', and 'Peggy Sue Got Married' a song Buddy Holly had recorded as a voice and guitar demo. The recording was overdubbed after his death and became a posthumous No.13 hit.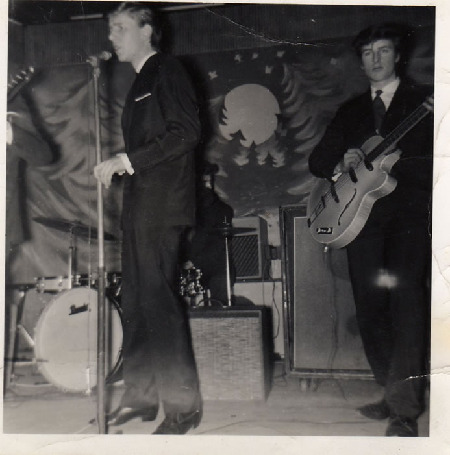 Mike Berry 1961

Never having heard themselves recorded on professional equipment, Mike and the band were very impressed with what they did hear. So, it seems was John Hawkins. He mentioned some time later (in fact, after Mike and the guys had already got a record deal) that he was considering signing them up for the studio he worked at - IBC in London's West End - with a view to getting a release with EMI or Decca records. But that was a little later in the story.Mike took his demo to work and lent it to Alan the beatnik who said he knew someone called Peter Raymond, who knew where a record producer could be contacted, but first he would like to see them perform. This would be at one of their weekly rehearsals held at the Mazzini Garibaldi Club in Holborn. Peter immediately saw potential in the band, or more precisely in Mike, and said he would get their demo heard by Jack Good, the legendary TV producer of the best rock 'n' Roll shows on T.V, "Oh Boy". He also knew how to contact the equally legendary Joe Meek,the first independent record producer in the UK, later best-known for his composition and production, "Telstar" by the Tornados.



Copies of Mike's demo were sent to Jack Good and Joe Meek, both of whom were interested in signing him up. First Mike went to see Jack Good, who had already chosen a song and arranged a recording session for the following week, telling Mike he would be the next Adam Faith. But before that recording session took place Mike went to see Joe Meek who said he wanted to make Mike the British Buddy Holly and already had ideas for an album featuring a picture of Mike superimposed on a 'ghostly' picture of Buddy.

This was much more to Mike's liking and so with his Nan (as legal guardian) in tow, his second meeting with Joe was to sign a three year recording contract, leaving his now 'manager' Peter Raymond to break the news to Jack Good. He signed this contract without a lawyer having been near it! With the benefit of hindsight, that was the first of a few life-changing mistakes in his long career. Had Mike gone with Jack Good, he would probably have had a record out and in the charts within a month – Mike felt that, with guaranteed appearances on Jack Good's TV shows, he would very soon have become a household name. And at 18 years old, that was all that really mattered to him in the short term. However, he signed with Joe Meek. And for his trouble, in spite of all the promises, it took months to get a record out. This was a cover version of the Shirelles "Will You Love Me Tomorrow", on Decca. Joe was convinced Mike could have a hit with the song but failed to appreciate that it really didn't suit his voice – and of course it didn't make it.



Mike had to wait a full nine months after signing his contract before his first hit 'A Tribute To Buddy Holly' was released – this time on HMV. By this time Peter Raymond had teamed Mike up with The Outlaws and they were touring the length and breadth of the UK performing in clubs and dance halls which were mostly 'Corn Exchanges' (Yes that's right, where the farmers used to sell their corn!) and town or village halls. One of the clubs they appeared at was 'The Cavern' where they met Brian Epstein and The Beatles and where Paul McCartney gave Mike a lift back to his hotel in his Ford Capri. It was during the week residency at The Cavern that Brian Epstein invited Mike and the band back to his flat to listen to a tape of The Beatles and in his naïvité, offered Mike a lot of work in and around Liverpool, if he could get 'His Boys' (i.e. The Beatles) on the television. His thinking was that Mike already had a hit and had been on television - so he must know all the right people. If only!



Mike's next success was his first concert tour, which led to the offer of a management contract with Robert Stigwood, one of the hottest managers around, and today a world renowned impressario. He thought Mike had great potential, but more as a Bobby Darin 'all round entertainer'. Fortunately, as soon as Mike signed with Robert, things began to happen and his career shifted up a few gears. With his next single, a Joe Meek composition called 'Every Little Kiss' - which Stigwood was convinced was a hit - he appeared on the recently launched TV channel BBC2, in a programme called 'Twist!' with David Jacobs compering. and the Geoff Love orchestra providing the backing. But despite some good airplay and Bob Stigwood's managerial skills, it didn't quite make it. The next single however, 'Don't You Think It's Time', a song penned by Geoff Goddard who wrote Mike's first hit, shot straight into the top ten establishing Mike as a firm favourite with the nation's record buyers and concert goers.



With the chart success came the tours, with Bobby Vee and The Crickets (with whom he did a guest spot), Brenda Lee, The Rolling Stones, The Beatles, The Four Seasons and most of the top artists of the day. Mike also appeared on television so much that he became rather sick of it and a bit blasé, although to be fair, a lot of the programmes were regional and involved a lot of travel for very early starts on fairly low key shows.Before The Beatles 'broke' in the States, Mike's 'Tribute' record started to generate some interest over there and broke out in half a dozen States, including Buddy Holly's home state of Texas.

And Mike received a very charming letter, via his manager, from Buddy's parents, thanking him for his tribute to their son. Unfortunately, as good as Robert Stigwood was in the UK, he had not yet established himself in America, so his agency were unable to capitalise on Mike's limited success. Had it happened post-Beatles, then maybe it would have been a different story.By the end of the sixties and into the seventies Mike's singing career had taken a bit of a back seat. His interest had been diverted by a passion inherited from his father for motor racing, and for a couple of years he indulged this passion, until the money ran out. He then went back into the studio and made a country album, 'Drift Away', for York records which created interest in America with talk of a promotional tour. Unfortunately, that never materialised, but the Kiwis were also impressed with the album and he took up their offer of a two-month tour of New Zealand.

On his return he was informed that York records was to be closed down by it's owners, Yorkshire TV, and so Mike was without a record deal. Before he had time to decide what to do next however, he was approached by an independent record company and within a very short time he had a top ten hit in the Netherlands. 'Don't Be Cruel', followed by a number one re-recording of his first hit 'A Tribute To Buddy Holly', and an album of the same name - all supported by a major tour. He also had a top ten disc in Germany, plus other hits in Scandinavia. He was then signed to Polydor with the same independent producer and made an album 'I'm A Rocker', for Cleveland /Epic records in the States. But due to some 'business irregularities' involving the producer, the Americans withdrew the already pressed album that, consequently, is now a rare collector's item. Because of these 'irregularities', Mike and his producer parted company.

Running parallel with all the European action, Mike had chanced into TV commercials and photographic modelling through a friend who thought Mike's stage and T.V experience would stand him in good stead for such a move, and for the next eight to ten years, Mike became king of the commercials, featuring in more than fifty! While filming one of these for TV Times, he met director James Hill, who offered him the role of Mr Peters, the father of the two children that befriend 'Worzel Gummidge' in the classic children's series. He appeared in all 30 episodes.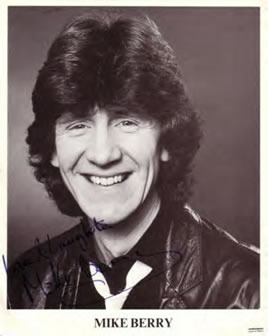 80's photo of Mike Berry

It was while working with Jon Pertwee in 'Worzel' that Jon suggested Mike join his agent, Richard Stone, with whom he duly signed a sole agency agreement. Having parted company with his disgraced producer, Mike asked his old friend and long time music associate, Chas Hodges, of Chas & Dave fame, to produce his next album. This association resulted in a top ten hit 'The Sunshine Of Your Smile', followed by two further hits and two successful albums.

With this renewed success, Mike undertook a top of the bill theatre tour, with comedian Jimmy Cricket, impressionist Aiden J. Harvey and compare/singer Tommy Bruce in support; the tour culminating in a concert at the prestigious Barbican Centre in London. Mike's new agent, Richard Stone, attended The Barbican concert and saw in Mike, great potential as a comedy actor, and for the first time since the 60s, when he starred in 'Mother Goose' in Darlington, Richard cast him in one of many pantomimes. 'Dick Whittington' at The Congress Theatre in Eastbourne had a cast that included Patrick Cargill, Victor Spinnetti, Lionel Blair, and Mike's comedy partner as 'Captain' to Mike's 'Mate', Frank Windsor.With comedy still in mind, when a cast vacancy for the BBC's classic series 'Are You Being Served' arose, Richard Stone was top of the list of agents to be contacted, and Mike was top of his list for the part. Mike was interviewed by David Croft the co-writer and producer. He then read for the part for both David and Jeremy Lloyd, his writing partner. Mike appeared in the last three series and a couple of Christmas Specials of the programme and it was one of the most enjoyable experiences of his professional life.

The acting continued with a theatre tour of Roald Dahl's 'James and The Giant Peach' with Mike as the Narrator. And plays, including Willie Russell's 'One For The Road' and 'The Diary Of Adrian Mole'. The 'Mating Game' a farce playing opposite Terry Scott, and 'The Cricket' in Pinnochio. Then a film, 'Julie & The Cadillacs' and another TV series with comedian Tom O'connor and the children's series 'Codsmorph' and 'The Parkies'.Having neglected the music side of his career for far too long, when Mike got a call from his agent inviting him to co-write and star in a new Rock 'n' Roll musical called 'Tutti Frutti', he took up the invitation with enthusiasm, creating the role of central character, Archie Culpepper, and enjoyed a year touring with a brilliant young cast. They performed the best of fifties rock 'n' roll to packed houses, with standing ovations and audiences dancing in the isles every night. This was followed by an equally enjoyable and successful sequel, 'Great Balls Of Fire' which finished with a three week run at the Lyric Theatre Hammersmith.

Having rekindled a taste for his musical roots, rock 'n' roll, acting now took something of a back seat, and with the exception of the occasional commercial, or cameo role in programmes like 'The Bill', Mike has been back on the road full time with his 'New' Outlaws (of 14 years), playing all over the UK and Europe with the occasional foray to The States. Last year Mike travelled to Nashville to record an album with the Crickets, fulfulling a dream he has nurtured since he first heard "That'll Be The Day" back in 1957. The album was released to critical acclaim and is currently Rollercoaster Records best-selling CD release.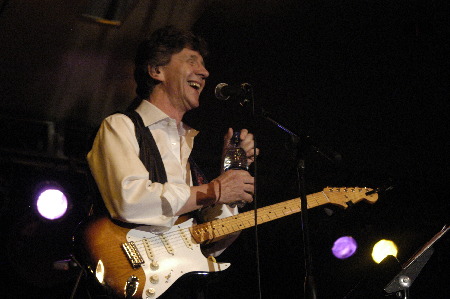 MIKE BERRY 2006 Clovis

In the year 2006 Mike was invited to headline the 'Clovis Music Festival' in New Mexico; primarily a celebration of the music of Buddy Holly & The Crickets and their association with Norman Petty's studio in in the city where they recorded many of their hits.

The story continues…………………………………………