| | | |
| --- | --- | --- |
| | A TRIBUTE TO NIKI SULLIVAN | |
| | - Dedicated to Fran Sullivan - | |
This very personal page about NIKI SULLIVAN is dedicated to my

friend FRAN, his lovely widow. She sent me a message asking for

a tribute to her late husband on my BUDDY HOLLY fan pages :

" I am Niki's widow and I sure wish you had him in the link so everyone

knew who he was and how much he contributed to Buddy's music and

how much he appreciated the Picks, the Roses and John Mueller.

FRAN SULLIVAN "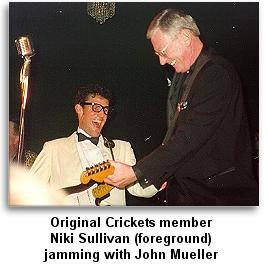 Niki and John

Courtesy of John Mueller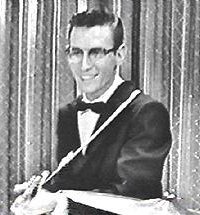 Thanks to BILL GRIGGS,

NIKI's widow FRAN,

NIKI's sister RENETTA

and JOHN MUELLER

| | |
| --- | --- |
| | |
| | Hans |


honoring this wonderful man, who was member of the Crickets up to 1957.


Niki Sullivan with his sons, they are twins !

Taken by Randall Osborn

For exclusive use on www.buddyhollylives.info only !
" Hans ,

I so appreciate your hanging in there and trying to do what I asked.

I loved that man, I miss him and I want the world to know what a strong

supporter he was not only of Buddy but of the Crickets and the memories

I have of him in regard to the music are precious.

The one thing anyone who knew Nick would say is money was never an

object to him, his love of the music and keeping Buddy's memory alive

and not tarnished were the goals he set.

I appreciate your love of the music and I wish you well.

Thanks, FRAN SULLIVAN "

On the 4th of March, 2012, I received the information that Fran had passed away.





Hello All.

We have set up a "Celebration of Life" Service for Fran. It will be held at Speaks Chapel (address info will be listed below) on Saturday April 7th from 2-5pm. You may review her obituary at www.speakschapel.com sometime after 6pm this evening.

Thank you all for your support, prayers, love and encouragement during this difficult time. She was an amazing lady and would not want us to cry, but instead laugh, smile and tell stories. And when you toast, make it a good one. :)

Thank you,

Marty, Lanett, Eryn and Stacey Sullivan
R.I.P. , Fran !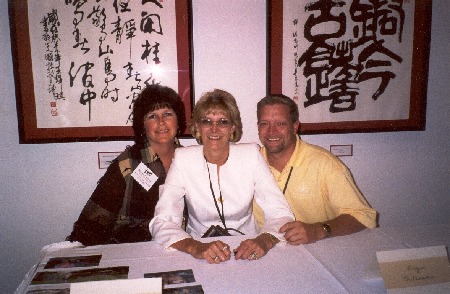 Courtesy of

Renetta

Kay Jeanes.

Renetta Kay (Sullivan) Jeanes on the left, Fran Sullivan in the

middle and one of the twins, Eryn, on the right.


" Hans,

thank you so much for including the information on Niki Sullivan on

your wonderful website.

Niki was my brother, and he was an fantastic father, grandfather,

husband and brother !

Thank you for keeping his memory alive as well as his love

for the music !


RENETTA KAY ( SULLIVAN ) JEANES "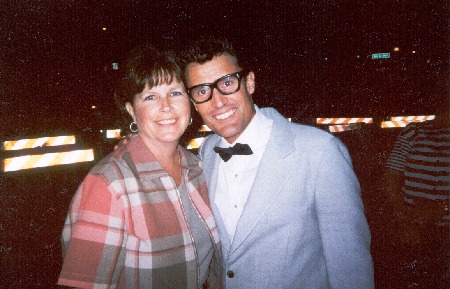 Niki's sister Renetta together with John Mueller after a concert in Lubbock where he portrays Buddy.

Courtesy of Renetty Kay (Sullivan) Jeanes, Niki's sister.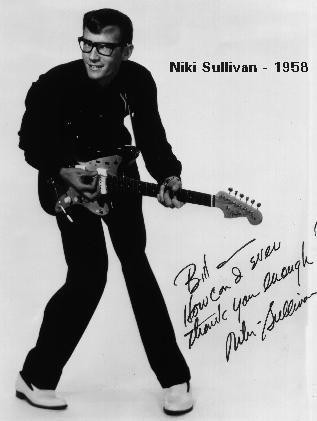 Copyright 1979 B. Griggs


Er ist unvergessen und ein Teil der Buddy-Holly-Story: NIKI SULLIVAN, Mitglied der CRICKETS bis 1957. Seine Witwe Fran schrieb mir und bat mich, eine Gedächtnisseite auf meiner Homepage BUDDY HOLLY LIVES für Niki zu veröffentlichen. Diesem Wunsch bin ich gerne nachgekommen.

Niki starb friedlich im Schlaf im Jahr 2004. Es ist unglaublich, aber wahr: Obwohl die CRICKETS gerade auf der Höhe des Erfolges waren, verließ Niki die Gruppe. Wie seine Frau Fran mir sagte, hat ihm Geld nie etwas bedeutet. Seine Entscheidung hat er damit begründet, daß es ihm zuviel wurde, jeden Tag in einer anderen Stadt aufzutreten. Wenn man in einem fremden Hotelzimmer aufwacht und sich nicht erinnern kann, in welchem Ort man gerade ist, dann ist es an der Zeit, aufzuhören.

Er tat es und er ging nicht im Streit. An 27 von 35 Titeln war er beteiligt. Das sagt alles und macht es noch viel unverständlicher, daß er in dem Film "Die Buddy Holly Story" überhaupt keine Erwähnung fand, so, als habe es ihn nie gegeben. Das hat er nicht verdient. Niki blieb nach seiner Trennung von den Crickets der Musik treu, als Solist oder auch mit Kollegen auftretend. Ein fröhlicher, liebenswerter Mensch, der im Alter von 66 Jahren leider zu früh starb.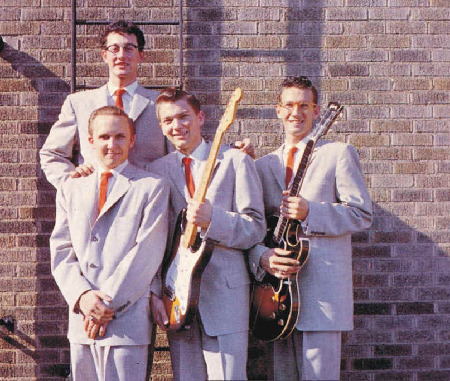 THE CRICKETS

" THANK YOU, WOW !!


I can't believe how awesome you are.

The page was wonderful and I appreciate your effort to get this done.

I have known Bill for many years and he never fails to amaze me with his words and his knowledge of Buddy and the Crickets.

I have all kinds of people contact me wanting something in exchange for doing articles or mentioning of Niki's name.

You Hans have made me proud that there are people in this world I do not know, have never met, but still share the love of this music.

I so appreciate you including our sons in your postings, Nick would have loved that.

What a delightful article and what true compassion you must have for all of the 50's memories.


Thanks and love to all of Niki's fans and to you in particular Hans.


FRAN SULLIVAN "

Next photo is courtesy of Renetta Kay (Sullivan) Jeanes, Niki's sister.

Front row is Renetta and her husband Tim (in the cowboy hat).


Back row is Fran, Eryn, Niki, Marty, and Bill Griggs.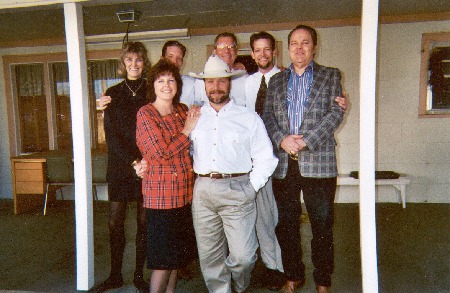 This photo was taken in Lubbock after mom's funeral -

taken at the home of mom's next door neighbor.

Niki's and Renetta's parents lived in the same house

since Renetta was born in 1955 !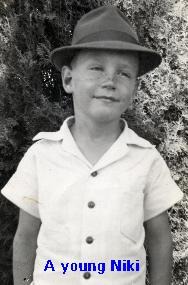 This is Niki about the age of ten.

© 1979 B. Griggs



Although born in South Gate, California on June 23, 1937, the Sullivan family moved to Lubbock when Niki was only two years old. Niki attended Lubbock High School and knew Buddy Holly. One evening, one of Niki's friends told him that Buddy was having a jam session and that Niki ought to attend and bring his guitar. He did just that and it led to his becoming a member of the Crickets.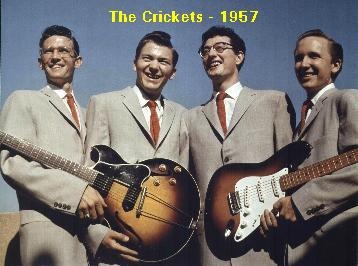 Courtesy of Bill Griggs

Niki toured with the Crickets through all of 1957 and can be seen on filmclips of the group performing on the Ed Sullivan Show on December 1, 1957. As a matter of fact, during the performance of "Peggy Sue", Niki is seen doing a little dance. Ed Sullivan, just out of camera range to his right, said "Hey, Texas boy, do it" so Niki "did it". Watch the expression on Joe's face!

He was also very important in the recording of the hit song "Peggy Sue". Buddy Holly was having quite a problem getting his hand down to the switch on his guitar. Each time he went into the bridge of the song and reached for the switch, he'd miss a beat and the session would have to stop.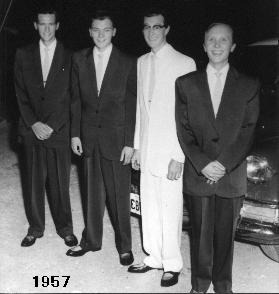 © 1987 Bill Griggs

Niki finally set his rhythm guitar down, knelt beside Buddy, and flicked the switch each time Buddy needed him to do it. As it ended up, Niki didn't play on the song but he was most important in helping Buddy to obtain the guitar sound needed to make it the worldwide hit that it became.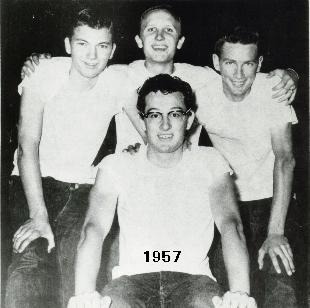 Courtesy of Bill Griggs

Disappointed and completely frustrated with the seemingly endless one-nighters, Niki Sullivan left the group at the end of 1957. It is a tough decision to leave a group when they are about at the top of success but he did it. Does he regret the decision? "Of course", answers Niki, "but I honestly didn't miss the hustle and bustle of constant travel, but I did miss the guys." Asked what the hardest part of touring like that was, he replied, "When you wake up in a strange hotel room and don't even know what city you are in".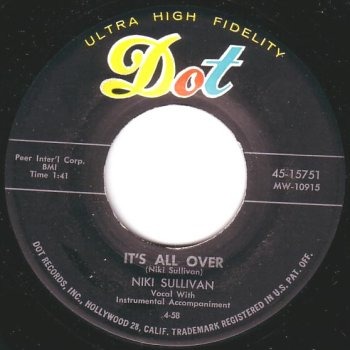 He recorded "It's All Over" and "Three Steps to Heaven" for

Dot Records in 1958.

A good record, it failed to chart nationally but did well regionally.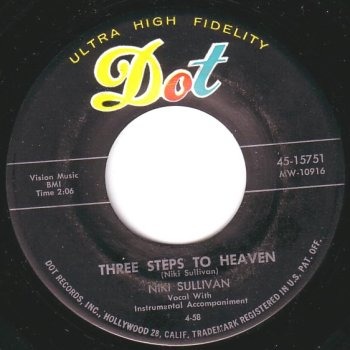 Under the management of L.O. Holley, father of Buddy Holly, Niki and Gene Evans also recorded "When Came The Fall" and "I Cry All The Time" as the Hollyhawks (Jubilee 5441) during the early 1960s.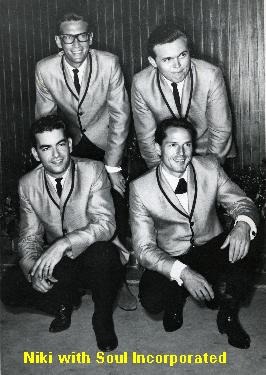 © 1978 Bill Griggs

He then formed a group, Soul Incorporated, which released a record on Joli (#075) titled "It Really Doesn't Matter" and "You Better Get A Move On" that is almost impossible to find today.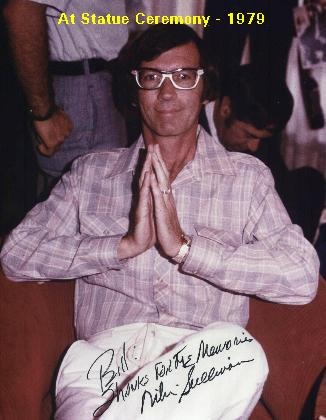 © 1979 Bill Griggs

In August of 1979, Niki attended the first convention of the international Buddy Holly Memorial Society, along with the other original Crickets - Jerry Allison and Joe Mauldin.



This marked the very first time that the three original Crickets had performed together on stage since December 1957.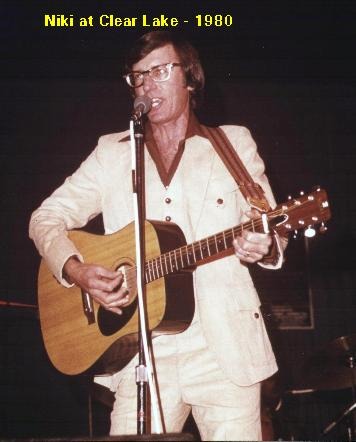 © 1980 Bill Griggs

Apart from many other BHMS appearances, along with several performances at several tribute shows, Niki has basically retired from music. During the 1990s and into the 2000s, he was an accounts executive with the Sony Corporation. He and his wife, Fran, had two twin boys Eryn and Marty [Eryn is the oldest by 90 seconds] and are living in Sugar Creek, Missouri, located near Independence.



Niki Sullivan died in his sleep on April 6, 2004 at the age of 66. He was a very good friend who will be sorely missed.

[The above is my entry for Niki Sullivan from my book A "Who's Who" Of West Texas Rock 'n' Roll Music, © 2002 Bill Griggs]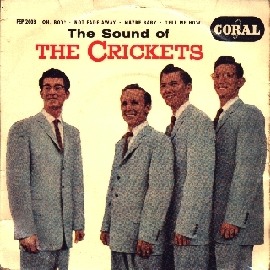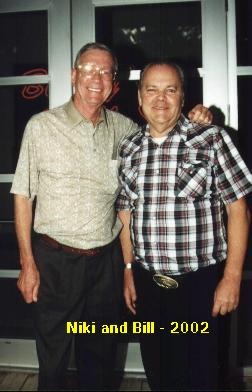 One of Bill's favorite pictures with Niki Sullivan.

© 2002 Bill Griggs

[Niki Sullivan died peacefully in his sleep on April 6, 2004.

I was asked to speak at his funeral. This is the eulogy I gave.]





It's still hard to believe he's gone. I've known Niki Sullivan and his family for almost thirty years. I've known his wife, Fran, for that same length of time, his sister Renetta, his wonderful mother, Kat. I've watched his twin sons grew up from young boys to young adults.



We've talked many times about his days with Buddy Holly, some of those times off the record just so I'd learn more about what really happened during those days. I have a file cabinet crammed full of letters and other things from Niki. He was always willing to allow me to "bug" him about those days and what happened and tell me about some of the trivial things that took place that the fans all want to know about..

Niki was always available to the fans - always. As a matter of fact, to the best of my knowledge, he was always listed in the phone book and never ducked anyone. Niki was an original Cricket, he was there from the beginning when "That'll Be The Day" was recorded. He was on that first tour that included the famed Apollo Theater in New York. He was on that major tour that lasted three months.

There aren't that many people from Lubbock, Texas that can say they were on the renowned Ed Sullivan Show on television. Niki was. He did pay his dues. I sat next to Niki during the world premiere of the movie "The Buddy Holly Story". Up came that famous roller rink scene and we noticed that only two Crickets were depicted up there with Buddy, instead of three. Yes, Niki was upset, but he took it in stride.

You see, Niki was left out of a lot of Crickets' "history". Why? There were several reasons, the primary one being he was left out of the Goldrosen book, the first real biography about Buddy Holly.
There was a good reason why Niki didn't do an interview with John Goldrosen. His wife, Fran, was in the hospital giving birth to twins and Niki chose to be with her instead of talking to an author.

You see, Niki was a family man all the way through. That's another trait of his that stood him apart from others. He was completely devoted to his family. The very last day of his life, he was on the golf course with his family, having a good time. He had just retired from his work and was looking forward to those days of relaxation and time with his family. He had very few of those.

Niki joked a lot - a lot - and that was one of the things I also liked about him. I tend to be happy and go lucky and I think a lot of that was gleaned from Niki Sullivan.

Just before I moved to Lubbock, he had moved his family to Missouri. He told everyone that he moved out of Lubbock because I was moving in. That's the Niki Sullivan humor. But...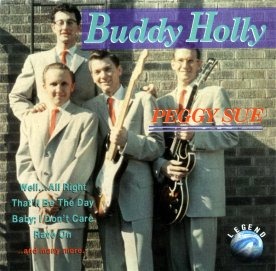 If you were in trouble or had a problem, Niki would literally give you the shirt off his back or did whatever it took to make you well. Where did all this come from? That's easy. I got to know his mother, Kat Sullivan, very well. She was quite intelligent, had the best of manners, and was a wonderful lady. THAT'S where Niki got those traits from. I also like to think that having someone like Fran Sullivan at his side was another reason.



As for all that great music from Buddy Holly and the Crickets, Niki had a big part in some of that also. He was at the Norman Petty Studio one day while the group was recording. During a break, Niki was sitting in the corner playing a guitar rift he had come up with. Buddy heard what he was playing and came over saying, "Tell me how you did that" and part of the song "Tell Me How" was written on the spot.



The song "Peggy Sue" may not have happened if it wasn't for Niki.
Buddy was playing so fast that when he got to the break, he couldn't get his hand to the guitar switch fast enough and kept missing a beat.
Finally, Niki simply knelt by Buddy and when the time came, Niki switched the guitar allowing Buddy to complete the song.



He left the Crickets in December 1957 saying he simply couldn't take all those one nighters and waking up in a hotel and not knowing where he was. He cut some records in 1958 under his own name, and recorded some more in the 1960s with his new group, Soul Incorporated.



There was one problem that plagued Niki throughout his life, and that was the spelling of his first name. It's N-I-K-I, but I've seen it spelled NIKKI, NICKI, NICKY, and so on. I think that is why, in the phone book, he simply put NICK.



When I held my very first Buddy Holly Memorial Society convention in 1978, Niki was one of the first people to respond and say "I'll be there".
All of the original Crickets were there and they performed together celebrating the very first time they've all been on stage together since 1957. It was a wonderful time that the fans that were there are still talking about.



Niki and I had become very close. I've told people that he was like a brother to me. I'm very proud of that relationship. I'll miss the musician. I'll miss his wit. I'll miss the man. I miss Niki. He's left a void in my life as well as that of his family and many others.



Those songs he recorded in 1958 were titled "Three Steps To Heaven" and "It's All Over". Well, Niki took those three steps to heaven. But it's not all over. He left his legacy that will go on for a long long time.

[© 2004 B. Griggs]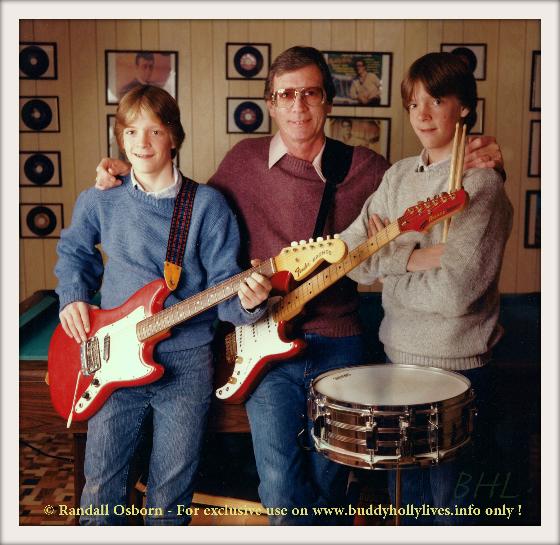 Niki with his sons, the twins. They are happy together. Great shot !

Taken by © Randall Osborn

For exclusive use on buddyhollylives.info


At the request of Fran Sullivan I received the following letter:

Mr. Hans Finking,

I first met Nick "Niki" Sullivan In Lubbock, Texas in early February, 1971 when I was in the midst of planning a Buddy Holly Memorial Telethon and Concert to raise money for Scholarships in his name for youth in Tex. and the surrounding area.



At the time Nick and Fran came down to meet me they were still living in Grand Rapids, MI and so I flew them in for the meeting. Nick was one of the most professional people I have ever had the pleasure of knowing and after our original meeting I hired him on the spot to help me garner the talent we were going to need to put the show together. I brought them down to San Antonio, Where I lived and my offices were. Nick and Fran Sullivan, were as fresh as the morning breeze in their natural way with each other and Nick could have as easily done stand up as well as he sang, fore he was a master of dry humor and funny beyond words...




Nick was one of a kind in both his stature and his caring way, not to mention an outstanding Chess player... Over the years since those days I came to know Nick very well and I counted him among my closest friends. He had a wonderful laugh that was very infectious causing anyone within ear shot to laugh out loud with him and he was special in his ability to talk about anything.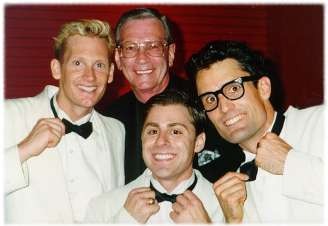 What a handsome bunch! Stuart Johnson, NIKI SULLIVAN, Dominic Mazzone and John Mueller after opening night for Buddy . . .

The Buddy Holly Story San Diego, summer 1997.

Courtesy of John Mueller


Nick once told me the story of what happened when Elvis was in town and Buddy, the opening band for the concert, being the Best local group in there area had access to the dressing rooms and chance to both meet and visit with Elvis in his dressing room. Now understand at the time Buddy was a pretty well known name in Lubbuck but was never able to break into anything National... After emerging from Elvis' dressing room that night, Buddy was a different person, more driven than ever before and shortly there after finally made it to the big time and the rest is history. Nobody knows what they "Elvis and Buddy" talked about that night as Buddy never spoke about it, but what ever Elvis said to him, was certainly the key that Buddy needed to make the transition from the small town image to what today we all know that he attained during his fast rise to National appeal.


Nick always had a great love and high admiration for Buddy Holly and he did all that he could to keep Buddy's memory alive after his death, even coming out of retirement to do appearances when the "The Buddy Holly Story" play starring "John Mueller", was playing anywhere USA....


I knew him through the time when his twin sons "Eryn and Marty" were born and though after a few years I moved on to Los Angeles, Ca., I never let go of our friendship and stayed close to him, even availing him the chance to finally get his just due on performance rights that for some reason were never paid to him for any of the many showings of his televised performances while with Buddy, before he went single.

I miss Nick dearly today, that very special laugh, that great love he had for his friends, his care to see that every one who worked with him got their just due.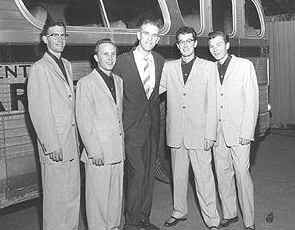 1957

Copyright Mr. Jasek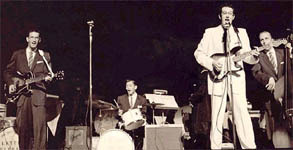 Nick, was there for the forming of the Crickets and the writing and recording of "That'll Be the Day" and his family still has the original acetate of it... among many others. From the time that I met him till his very untimely death the April 6, 2004, he was always the consummate Class Act that I met way back in Lubbock, Texas that day in 1971 at the Koko Inn...

There was only one "Niki Sullivan", the rhythm guitarist in the Crickets and the fourth voice that made their original sound so unique and the Wonderfully Outstanding ClASS ACT that he was to all who knew him....



Sincerely

Andrew J. Waldorf


Los Angeles, Ca.

E X C L U S I V E PHOTOS for www.buddyhollylives.info only

Published with written permission of the Copyright holder

Photographs by Randall Osborn

These photos have been in my possession since I took them.

They have never been published, as far as I know, no one really knows

these pics other than the twins, and Niki and Fran. I may have given

some copies to Niki.

My original intent is to get the originals to Niki's sons. I would like that.

Niki was the greatest to work with. We shared the love of music,

I was a drummer and my friend a bass player. We both worked with

Niki at a video rental/TV, VCR retail shop in the Waldo area of

Kansas City. Niki inspired me and my friend as musicians.

We shared many laughs together over a wide variety of topics.

Thank you so much for sharing, Randall ! You made my day !

And I'm sure, a lot of Crickets fans around the globe feel just like me ! ! !

Hans