Dear Hans,

We are so pleased that friends such as yourself, keep Buddy's

name alive.

We were happy to sign your autograph site.

Good luck with all that you do.



All our best,


Gary & Ramona Tollett

Gary Tollett passed away by the end of December, 2018. R.I.P., Gary !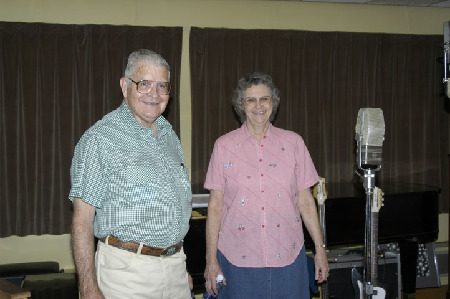 Gary and Ramona Tollett visiting the Norman Petty Studio in Clovis NM in 2005 during the Clovis Music Festival, where they appeared on stage.

Gary Tollett und seine Frau Ramona besuchten während des Clovis Music Festival

2005 die berühmten Norman Petty Studios in Clovis, New Mexico.

" Lieber Hans,

Wir freuen uns so, daß Freunde so wie Du Buddy's Namen lebendig halten.

Wir waren glücklich, uns in Dein Gästebuch einzutragen.

Viel Glück mit allem, was Du tust.

Alles Gute, "

Gary & Ramona Tollett

Ende Dezember 2018 verstarb Gary Tollett. Ruhe in Frieden, Gary !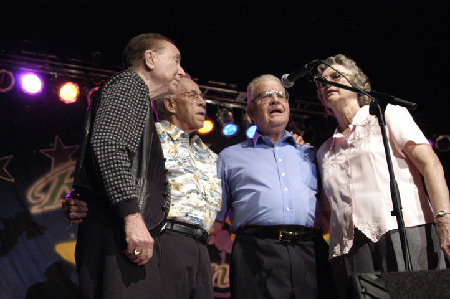 John Pickering, David Bigham, Gary and Ramona Tollett. Clovis Music Festival, 2005.

From my guestbook :

We are so proud to have been friends of Buddy Holly.

We are the back ground vocalists,

along with Niki Sullivan, on Buddy's first big hit

" That'll Be The Day ".

Buddy will be missed, but we at least still have his music!

8-3-2006 Gary & Ramona Tollett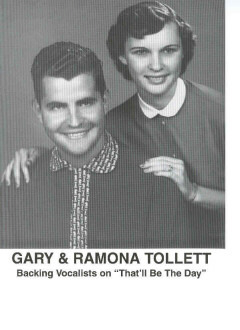 Courtesy of Dick Stewart, TLM.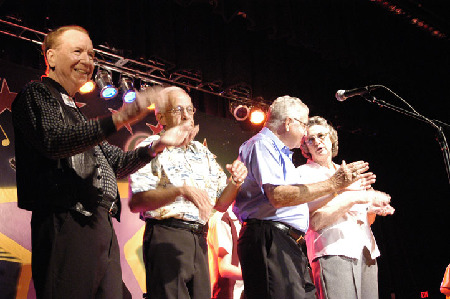 Auf der Bühne beim Clovis Music Festival 2005 in Clovis, New Mexico: John Pickering (The Picks), David Bigham (The Roses), Gary und Ramona Tollett.

Aus meinem Gaestebuch :

Wir sind stolz, Buddy Holly's Freunde gewesen zu sein.

Wir sind die Sänger, die zusammen mit Niki Sullivan den Gesang

im Hintergrund bei Buddy's erstem grossen Erfolg, " That'll be the day ",

gemacht haben.

Sicherlich vermissen wir Buddy, aber wir haben schliesslich immer noch

seine Musik !

GARY und RAMONA TOLLETT, 3. August 2006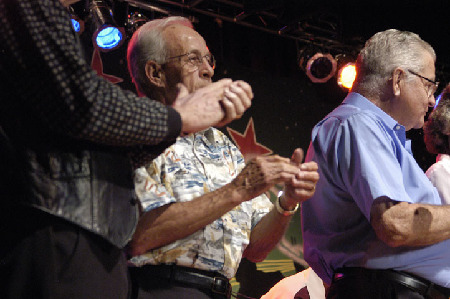 David Bigham, Gary Tollett.


Dear Hans,

Enclosed are some pictures taken at the Clovis Music Festival last

year. We are going to appear there again this year, Sept. 8, 9, 10th.

with George Tomsco and the Fireballs and also with John Mueller and

The Winter Dance Party.

Love, Gary & Ramona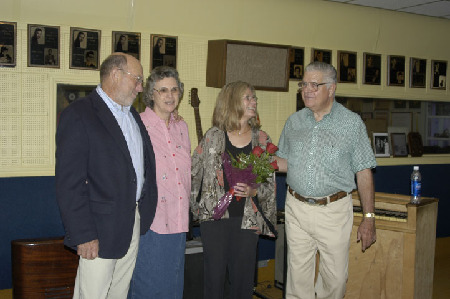 Walking through the Norman Petty Studio with Buddy's drummer Jerry Ivan Allison and his wife.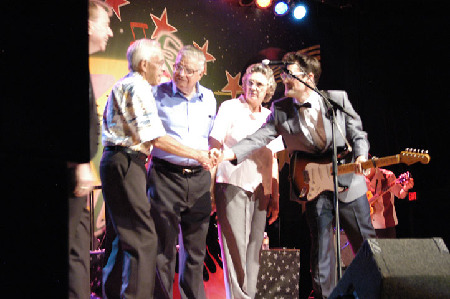 Meeting John Mueller on stage.


Lieber Hans,

anbei einige Fotos vom Clovis Music Festival vom letzten Jahr.

Wir werden in diesem Jahr am 8., 9. und 10. September dort wieder auftreten

zusammen mit George Tomso und den Fireballs und mit John Mueller und der

Winter Dance Party.

Liebe Gruesse, Gary & Ramona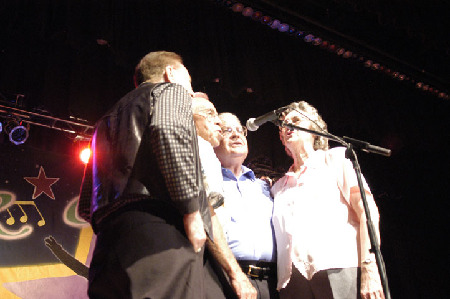 Mixed choir.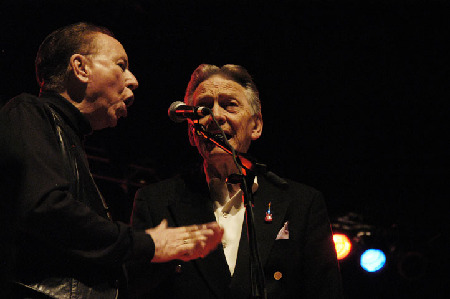 Boy's choire.

Color photos courtesy of Liz Eisenbraun, clovismusicfestival.com !

Thank you, Gary and Ramona, for your fine contribution to my site !

Ich bedanke mich bei Gary und Ramona für diesen schönen Beitrag.

HANS

_______________________________________________________________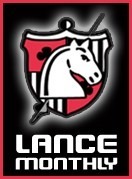 To complete this page here is an interview from 2003 licensed for publishing on this website by written permission of Dick Stewart, editor of THE LANCE MONTHLY.

___________________________________

Up Close with Gary and Ramona Tollett

___________________________________


Backup Singers in Buddy Holly's "That'll be the Day"

By: Dick Stewart, The Lance Monthly (Contributor)
2003-06-09

[Interviewer's Note: Gary and Ramona Tollett were married in 1955 and settled in Lubbock, Texas, during a time when rock 'n' roll was in its infancy, and even though they sang professionally together, a full-blown music career wasn't really their main goal in life. But then neither was meeting the great Buddy Holly in a Lubbock drug store that resulted in a major contribution by the Tolletts. It's easy to forget that in addition to the principal artists, there are other important contributors who are responsible for the development and finalization of a song's personality: producers, arrangers, writers, engineers, promoters, and backup musicians come to mind. And if the song hits, unless one is an ardent fan, only the name of the artist and the song's title come to mind. Such is the case with "That'll Be the Day," which became a mega hit in the late '50s, and gave Buddy Holly household-name status. The Tollets and Niki Sullivan provided the backup vocals on this legendary tune as a favor for Holly, with neither monetary gain nor visible credit consideration. But little did they know that their efforts would become a major contribution to a style of rock 'n' roll that made history in a little studio in Clovis, New Mexico.]

[Lance Monthly] Both of you grew up in the '30s and '40s in different parts of the Country during a time when kids had to use their imaginations to entertain themselves, like exploring, building forts, and playing popular outdoor games such as "Kick the Can." This was especially true because television was not a household item. What were the things you folks did to entertain yourselves?

Gary Tollett I grew up on a family cotton farm north of Littlefield, Texas. We thought more about work than we did about playing. Even as a youngster, I had to milk cows, feed and water chickens [and] hogs and do other farm chores. We lived 14 miles from school, so a big part of the day was taken up traveling to and from school. This left little time for play. We all enjoyed listening to our battery-operated radio at night (we didn't have electricity yet). The family also enjoyed singing with my dad, George Tollett, playing the guitar. Dad was an excellent singer and guitar player. Visiting with nearby friends and relatives was a big part of our entertainment!

Ramona (Haynes) Tollett I lived on a farm near Merced, California, with no close neighbors, so I played with my younger brother. We played in the dirt making roads and farms to drive our toy tractors and cars on. When he wouldn't play with me, I would climb my favorite tree with a book to read. When I was about eight, my older brother taught me to drive a tractor. From then on, it was my job to drive a tractor for various farm jobs. When I was 14, my dad gave me a horse. My girlfriend, who lived a mile down the road from us, also got a horse, so for the next couple of years we rode together every chance we had.

[Lance Monthly] What was it like growing up with your birth families? How many brothers and sisters did you have, and aside from the two of you, were there other family members that had strong interests in music?

Gary Tollett We had a good life on the farm. My brother, Leonard, was born seven years after me, and my sister, Judy, was born 14 years after me. We were not quite as close when they were younger because of the age difference, but we are a very close-knit family now that we are all grown. My dad influenced my musical tastes because he was such a good guitar player and singer. He often played for Saturday night dances in the community and picked up a few dollars to help support the family.

Ramona Tollett I had four older sisters and two older brothers, and one younger. Some of the older ones were married or already working out on their own before I could remember. My oldest brother was in the Navy in WWII when I first remember the family talking about him. After the war, we were always all together for Christmas and other holidays, and we enjoyed being together. We all loved music and liked to sing. My dad played the fiddle and he would entertain us quite often when we were all together. During the '20s and '30s (before I was born), he would play for neighborhood dances in order to earn a little extra money. When I was a teenager, I started singing in the church choir and continued to do so until I married and left that church. One of my sisters and I used to sing duets at church, also. I have been singing as long as I can remember. Since Daddy & Momma both liked to sing, I guess that I come by it naturally.

[Lance Monthly] What genre of music did you both listen to a lot before rock 'n' roll made its presence, and who were your favorite artists during that time?

Gary Tollett [In] my early years, country & western music was my choice. Hank Williams was my first favorite singer, and I tried to sing all his music. Other favorites: Hank Thompson, Hank Snow and Lefty Frizzell. Enjoyed listening to gospel music such as the Chuck Wagon Gang and others. This love of gospel music has carried over to our current years; we still sing in church and make other personal appearances singing gospel music. We have a Gospel Country CD that was recorded from our live performances at our church, Trinity Southern Baptist in Casa Grande, AZ. We have been selling them for $10.00 post paid in the U.S. Our mailing address for ordering is P.O. Box 231, Arizona City, Arizona 85223.

Ramona Tollett I liked country & western music, because my older brothers and my Dad all listened to it. However, my favorite music is (and always has been) hymns and gospel music. As Gary has already stated, we still sing gospel music today.

[Lance Monthly] When rock'n'roll came on the scene in 1954, with artists like Fats Domino, Little Richard, The Del Vikings, The Platters, etc., did you at, first resist, their music or accept it with open arms?

Gary Tollett I was in the Air Force during '54 and '55, so I didn't get to listen to too much music. After my discharge and return back to West Texas, rock & roll music had a good start. Carl Perkins was one of the first rockabilly artists that I admired. Soon we grew to know even more of the new artists such as Buddy Knox, Jimmy Bowen, Donnie Lanier and, of course, a young man named Buddy Holly. We were hooked on "good old rock and roll" after that.

Ramona Tollett I have never been a radio listener and I didn't keep up with music trends in 1954. The only music I heard at that time was still country & western. Gary and I were dating then, and that was what he listened to, so I did too. After we were married and moved to Texas, we started hearing rock and roll. It was called "rockabilly" in West Texas. I really liked the '50s rock 'n' roll, but I quit listening to the radio much after 1960.

[Lance Monthly] So where did you folks actually meet, and was the fact that both of you loved to sing bring you together?

Gary & Ramona Tollet Gary was in the Air Force at Castle AFB located near Merced, California (Ramona's hometown). He came to the church that Ramona attended, but Ramona actually met him at a drive-in where she worked as a carhop. When Ramona first went to the car to wait on Gary, she asked him what he wanted and he told her that he had met her the night before at church. Since she had not been at church the night before, she thought that he was just giving her a "line." It was determined later that Gary had met Ramona's sister Opal; they dressed alike and did look quite a bit like each other. Gary later became a member of the church choir and we started dating soon there after.

[Lance Monthly] Was it difficult finding work and getting settled in when you moved to Lubbock, Texas, shortly after you were married?

Gary & Ramona Tollet We first moved to the family farm north of Littlefield, Texas, and farmed cotton for a year. Our first crop was just average at best and we didn't make too much money. Gary decided to use his GI Bill to go to college and get a degree. We decided that Texas Tech in Lubbock, Texas, was the best place for Gary to get his degree. It was only 40 miles or so from the farm, so we decided to move to Lubbock. We bought a house just north of the University, and then looked for work. Ramona found a job as a secretary in the physics department at Texas Tech, and Gary worked nights with a janitorial service. This kept us quite busy when Gary also became a full time student.

[Lance Monthly] Was it your intentions to make careers in music as a duet after you were married, and did you immediately become active musically upon moving to Lubbock? In addition, give our readers your music accomplishments in Lubbock just before you met Buddy Holly.

Gary & Ramona Tollet No! We had intended to settle back into farming life, raise a family, and try to do what God wanted us to do. Music was a part of our life, but we never thought of making it our goal in life. We did make personal appearances with a group called the Serenaders. We won a talent contest at a show that they were appearing in and they invited us to appear with them on their local TV show. We did this several times and traveled around West Texas on other appearances with them.

[Lance Monthly] What were the detailed circumstances under which you met Buddy Holly, and what were your first impressions of him? Did you like him right off?

Gary & Ramona Tollet Gary's cousin, June Clark, who was Don Lanier's sister, wanted to help Gary become a recording artist like her brother. (The Rhythm Orchids had the first West Texas hit and million-seller from Norman Petty's studio in "Party Doll.") She introduced us to Buddy Holly and Jerry Allison, and they were to play for Gary on his promotional records to try to get a recording contract. Buddy was very shy, and our first impression of him was that he was probably too young. We soon found out that our first impressions were wrong, and that he was an extremely talented young man. We soon got together at June Clark's house and rehearsed numbers for Gary. Later on, Buddy suggested that we sing back up for him on some recordings that he had scheduled to do at Norman Petty's in Clovis, NM. We grew to be very good friends of Buddy and Jerry, recorded with them on several occasions, and made a few personal appearances as well.

[Lance Monthly] You mention Don Lanier and Jerry Allison. Don, of course, was Buddy Knox's lead guitarist, and Jerry Allison was Buddy Holly's drummer. Could you give our readers a little more detail about these legendary musicians during Petty's reign, such as their overall demeanor, how far they went in their music careers, and what they might be doing today?

Gary Tollett Don Lanier not only played lead guitar for Buddy Knox, he was also an excellent vocalist and recorded many songs such as "Pony Tail Girl" that our family really liked. He also recorded under the name of Don and his Roses (The Roses also did backing vocals for Buddy Holly and many others). Jerry Allison stayed with The Crickets for his entire career as drummer. The Crickets have changed in number of individual performers over the years, but have stayed busy in the music business up to this date. We count them as good friends and visit whenever we have the opportunity. Don worked with Jimmy Bowen for many years until Jimmy retired. Don is still working in the music business today and lives in Nashville. Jerry is still very active in music and lives just outside Nashville.

Ramona Tollett I remember Donnie as being a quiet person. He was a very talented musician and I enjoyed hearing him play. We did one stage show with Buddy that Donnie was appearing on. I was impressed with his showmanship, his smooth delivery, and relaxed demeanor. Jerry Allison is an outgoing person and an excellent drummer. He was like a younger brother to me. We were the best of friends (and still are) always teasing each other (and still do). He is a great guy and I always enjoy getting together with him.

[Lance Monthly] Describe the setting in Norman Petty's studio in Clovis, New Mexico, during Buddy Holly's recording of "That'll Be the Day." How was the recording studio set up and who were present? In addition, approximately how many takes did it take for a rap and was the famous song recorded by everyone at the same time (including your backup vocals) without the aid of additional track employment?

Gary Tollett Recording was relatively simple back in 1957. The Petty Studio was not a major studio in size, just in excellence of quality. The people present at the studio for "That'll Be the Day" were: Buddy Holly - lead guitar and lead vocal; Larry Wellborn - bass; Jerry Allison - drums; and Niki Sullivan, Ramona Tollett & Gary Tollett - backing vocals. Everyone recorded this song live at the same time, [and] if an error was made we had to do it all over again. Single-track recording was common then, not like the multi-track used today. Buddy thought that the A-side of this recording session would be "I'm Looking for Someone to Love." We spent more than four hours and many, many takes on this side. We started on "That'll Be the Day" around 1:00 AM and did three or four takes before Norman and Buddy agreed that we had a "good take." So what you hear today was probably the third or fourth take.

Ramona Tollett Gary forgot to mention that Larry Holley (Buddy's brother) was also present. [Editor's note: Buddy's family name was Holley.] In fact, we rode to Clovis from Lubbock with him, Buddy and Jerry. It is hard to describe the setup in the studio without actually being there. One thing we do know is that Niki, Gary and I all shared one mic, which was on a stand. We all had to lean in close as we were singing. Also, there were no headphones in Petty's studio. As Gary said, it was all done "live." Vi Petty's grand piano and Norman's organ (with speakers) were permanent fixtures in the studio, so all other instruments had to be set up with those two instruments as far out of the way as possible. Norman also had a "drum wall" set up along the west wall, which made a hallway, but it also took up more space in the studio. I remember singing "I'm Looking for Someone to Love" many times, but we only did about three takes of "That'll Be the Day."

[Lance Monthly] Few, if any, can dispute that Norman Petty and Buddy Holly were creative geniuses. Because of that, did you witness any conflicts between them during the recording of "That'll Be the Day" or did Petty call all the shots in the song's production without question?

Gary Tollett No, sure don't remember any conflicts between Buddy and Norman during this recording session. Buddy and the session group had rehearsed many times before going to Clovis, so all parts were well-rehearsed and ready to record. Norman put the microphones where they would pick up the sound properly, but he really didn't do anything to change Buddy's arrangement or content. In fact, Buddy had things just the way he wanted it, and Norman agreed with him.

Ramona Tollett You have to remember that this session was very early in Buddy and Norman's relationship. In fact, it was the first session. They were basically just getting to know each other. We had gone to Clovis to cut a demo, not a master. Norman was a perfectionist, and I remember him saying we had better "do it again" many times during the cutting of "I'm Looking for Someone to Love." I also know that Buddy had the final say on both songs. Since we only sang backup for Buddy on one session, we remember the details pretty vividly.

[Lance Monthly] Some of Norman Petty's artists I've interviewed for 'The Lance Monthly' have expressed mixed feelings about him . . . some good; some not so good. And, of course, it has been widely written that Holly had an early falling-out with Norman. What were your overall impressions of the man? Was he tough to work with in the studio and somewhat hard on his artists?

Gary Tollett Norman was a very nice man and very musically talented. He had ideas that did not always agree with the musicians, so of course there were disagreements, occasionally. Did not notice him being particularly hard on any of the artists that he worked with. There have been some that complained about how Norman handled their finances!

Ramona Tollett Actually, I didn't know Norman all that well. We did the one session with Buddy, and then we went back twice more for Gary to record with The Crickets backing him. I sang backup on one of those sessions, along with June Clark. Norman was soft spoken and appeared very mature to me. In fact, I guess I was really in awe of both his and Vi's [Norman's wife] musical ability. They were both extremely talented.

[Lance Monthly] You indicated in your brief bio on your website that you were not compensated for your vocal backup role in "That'll be the Day." Did Buddy originally offer to pay you for your services and you declined? How did it come about that you received no monetary compensation?

Gary Tollett Buddy and I agreed from the very beginning that he would play the guitar on any promotional songs that we recorded, and Ramona and I would do vocal back up for his songs. We never expected any money from our work with Buddy. Money was in short supply in 1957 for both Buddy and us, so we used the old "bartering system." We feel that we were more than adequately compensated because Buddy and The Crickets played on six [of our] songs at Petty's studio (plus two sides at KDAV studio in Lubbock). They were not released for many years, but Rollercoaster Records in England are now releasing these old songs.

Ramona Tollett Gary pretty well covered this question; however, I want to add that Buddy was our friend. Friends didn't expect monetary compensation; they would do favors for each other. Gary called it bartering; I call it trading favors.

[Lance Monthly] Do you stay in contact with Holly's widow, Maria Elena, and how much of a role did she play in Buddy's music career?

Gary Tollett We see Maria Elena at various Buddy Holly Music Festivals, etc., but do not stay in touch with her on a regular basis. Due to the fact that she knew Buddy for such a short time before they were married and even a shorter time before he was killed, she really didn't have a chance to influence Buddy's music too much.

Ramona Tollett Buddy did not meet her until July 1958; they were married in August; he was killed in February 1959. He was already a "star" when she met him.

[Lance Monthly] It must have been an incredible shock when you learned of Holly's fatal plane crash in 1959. Could you elaborate on this for our readers . . . where you were, what you were doing at the time you received the news, etc.?

Gary Tollett I was on my way to a 9:00 AM class at Texas Tech the morning of February 3, 1959 and was listening to my car radio. A news bulletin came on that a local man had been killed in a plane crash in Iowa. Then it was announced that our friend Buddy Holly had lost his life in a tragic plane crash, along with the Big Bopper and Richie Vallins. My first thought was "No," this couldn't possibly be true, but soon reality set in and the empty feeling of loss took over. I went to Ramona's office to tell her the sad news.

Ramona Tollett As Gary said, he told me of Buddy's death. It was totally devastating. Buddy and I were the same age (he was three months older). People our age weren't supposed to die! We had lost a close personal friend and it is really hard to put into words. It did make us realize that life is uncertain, and that we should try to live our lives the way that God wanted us to live.

[Lance Monthly] Norman Petty was a principal pioneer of guitar instrumental rock with such hits in the late '50s as "Wheels" by The String-A-Longs and "Bull Dog" by George Tomsco and the Fireballs. Did you have an opportunity to befriend the members of these groups, and what your feelings were about this new style of rock and roll music that didn't depend on vocals?

Gary Tollett We didn't really get to know these groups until later years; in fact, we just met The String-A-Longs last September during a taping session at The Petty Studio. We have known George Tomsco and the Fireballs for a number of years and have always been great fans of theirs. I have always been a lover of fine guitar music, so was able to accept this "new" style of rock and roll right away.

Ramona Tollett [As I've stated earlier], I told you that I was not a big radio listener. However, as Gary and I traveled, he would have the radio on, and I remember hearing "Bulldog" and "Wheels" and really liked both songs. They had a good up-beat tempo. We met the Fireballs in 1989, and have become very good friends since that time. It was good to meet and visit with two of the String-A-Longs last September.

[Lance Monthly] Were the two of you under contract with Norman Petty when you recorded your songs in his studio? If not, since Holly was your backing guitarist, did Norman want some sort of compensation for Buddy's services?

Gary Tollett No, we were not under contract to Norman. In fact, I had a recording contract with Gone Records in New York City. As we mentioned earlier, Buddy was playing guitar for my recordings as a friend, and to fulfill his commitment to us for helping him by singing backup for his recordings.

Ramona Tollett As far as we know, Buddy did not have a contract with Norman at the time we did our first recordings with Buddy backing Gary. Norman knew our arrangement with Buddy and that we were friends. I don't remember any talk of money ever being mentioned [in regards to] Buddy playing for Gary.

[Lance Monthly] Gary, your website bio says that you and Ramona moved to Arizona in 1959. Please summarize for our readers what the two of you did musically from then to the present. Did you, and do you continue to record?

Gary Tollett I graduated from Texas Tech in June 1959, just a few short months after Buddy's death. My thoughts of a music career were forgotten by the pressing need to earn a living for Ramona and our new baby that was due in July. We have a happy life that certainly includes our music family from the '50s. We go to as many reunions and music festivals as we can and try to keep current with what is going on in the music world.

We are still enjoying selling the music that we did with Buddy and The Crickets. John Beecher of Rollercoaster Records has been good enough to release several of our songs from back then, and distributing them on his label. We haven't recorded anything for release recently, though we did do some background vocals for George Tomsco and The Fireballs in September of 2000. Ramona and I, The Roses (Robert Linville and David Bigham) and Peggy Sue did backing vocals on two tracks on their new release, The Seventh Street Legends. Most of our singing is in church now; we sing for the glory of The Lord. We go to different cities and sing for revivals and special church events. We have a CD of our live music from our church that we are selling now. The title of the CD is Country Gospel, which was mentioned earlier. We still enjoy singing with friends from our musical past [such as] The Crickets, George Tomsco and The Fireballs, Bobby Vee, and many others when the opportunity presents itself. Last year, we had the privilege to go to Iowa and Minnesota to tour with a group of rock and rollers to earn money for music scholarships in the names of all the men that were killed with Buddy in 1959. Our last concert was at The Surf Ballroom and it was really a thrill to be able to perform there.

[Lance Monthly] Rock 'n' roll has gone through some huge changes since its inception in the early '50s. What are your individual thoughts on this?

Gary Tollett My taste in rock and roll music has not changed, it is the music that has changed. I do not care for the hard rock, heavy metal music that is played today. Call me "old fashioned" if you will, but my taste for rock music is still in the '50s. I tune in the "oldies" stations and enjoy listening to my "old friends" from back then, and still enjoy them as much as I did in the '50s.

Ramona Tollett Rock and roll music digressed rapidly in the late '60s. In the '50s, amps were hooked to the guitars, the singers stepped to the mics, and the show would begin. Today musicians have to use flashing colored lights, fake smoke, and any number of other props to entertain because the noise they make with their voices and instruments is not really music. In my opinion, the noise that is called "rock music" today is just that . . . NOISE!

[Lance Monthly] Thank you so much, folks, for sharing your fascinating music career with us. Your backup vocals to "That'll Be the Day" certainly made the personality of this legendary song complete, and your historical presence and musical contributions during the Norman Petty/Buddy Holly era are nothing short of priceless. Do you each have any final thoughts?

Gary Tollett Remembering the '50s and the wonderful friends that we made in the music business back then bring back some of the happiest times of our lives. We still love being around our "music family" as often as we can, and still love to sing that "Good old '50s Rock and Roll. George Tomsco and The Fireballs pretty much say it all in their new song, "Everybody Should Have Lived in the '50s."

Ramona Tollett My thoughts are pretty much the same as Gary's on this question.

[Lance Monthly] Thank you again, Gary and Ramona. I've enjoyed visiting with you.

Gary & Ramona Tollet

Dear Dick,

We have enjoyed visiting with you and reminiscing about our "youth" and the good times that we had in the '50s. We hope that your readers [will] enjoy reading about those times and that they'll still "Keep on Rockin."

Best wishes,

Gary & Ramona


Hallo Hans

Ich bin noch einer der die Buddy-Zeit miterlebt hat. Ich habe noch genau in Erinnerung wie ich an dem Morgen die Bildzeitung kaufte und die Schlagzeile las " Drei Rock&Roll Stars abgestürzt "
Ich habe an diesem Tag in der Lehre nicht viel gelernt.
PS. Habe noch einige Coral-Platten von damals mit Buddy

Good Rocking von Rainer