JOHN MUELLER , die "Wiedergeburt" von Buddy Holly


JOHN MUELLER , the "Reincarnation" of Buddy Holly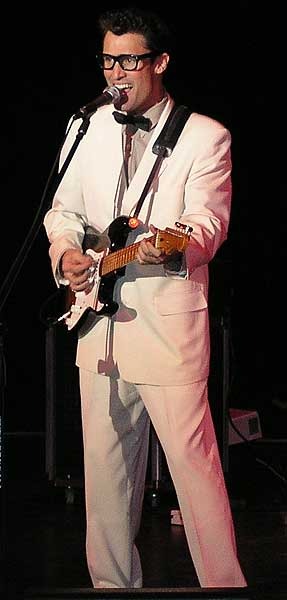 A few things attached,

enjoy and hope you find

useful.


Will have web master

link up your site on

links page.


Happy Holidays,

HANS,


JOHN MUELLER.


12-22-2005




The official tribute to Buddy Holly, Ritchie Valens, and The Big Bopper





"The Winter Dance Party" is the official live and authentic re-creation of Buddy Holly, Ritchie Valens and the Big Bopper's final tour and the only show endorsed by both the Holly and Valens estate. Each live concert performance includes over two hours of unbridled, high voltage entertainment featuring all the hit songs of the 50's era: That'll Be The Day, Peggy Sue, Oh, Boy, Rave on, La Bamba, Chantilly Lace, and many, many more.



John Mueller, the critically acclaimed former star of the U.S. touring version of the London/Broadway hit musical "Buddy..the Buddy Holly Story," performs as Buddy Holly and Jay P. Richardson, Jr. fills his legendary father's footsteps as the Big Bopper. Jay is actually the Bopper's son and brings with him the heritage and feeling that only he can offer. Ray Anthony performs as Ritchie Valens and is a renowned star of the "Legends of Rock and Roll" show at the Imperial Palace in Las Vegas. The very authentic and energetic four piece band (guitar, drums, stand up bass and sax) includes Grammy award winning Mike Acosta on saxaphone.



The Winter Dance Party show has performed in front of over 2 million people on national TV for the Jerry Lewis Telethon, has toured extensively throughout the United States at theatres, ballrooms, corporate events, casinos and most recently featured at the Rock and Roll Hall of Fame along with John Mellencamp, Marshall Crenshaw and others. Canada and England have also been witness to this extraordinarily fun show.



Highlights over the years have included receiving the keys to the city of Green Bay, WI from the Mayor, playing in the legendary Surf ballroom on the same day Buddy, Ritchie, and the Big Bopper did 40 years prior and performing on stage with Maria Elena Holley (Buddy's widow).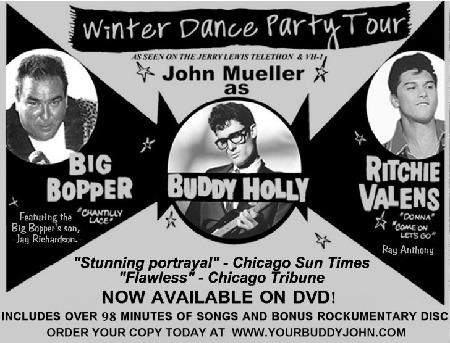 "Flawless….rings as clear and true as a chord from a Fender Stratocaster."

-The Chicago Tribune

"An air tight band with energy-packed execution of a long string of classics. Rather than museum pieces or mere fodder for oldies radio, these songs had all the vitality and punch that they carried 41 years ago."

-Springfield State Journal Register

"Winter Dance Party captures Holly era…a dead-on re-creation of the '59 show."

-Kalamazoo Gazette

"One of the best concerts I've ever seen."

-Larry Holley (Buddy's brother)

"Watching Jay Richardson is just like watching his Dad."

-Dick Clark

"John Mueller (as Buddy Holly) gives a stunning portrayal. Highly recommended."

-Chicago Sun Times


" HELLO HANS ,


Back from touring with "Buddy, Roy and Elvis."

Great show and tour and am now resting before next tour dates of my

"Winter Dance Party" show.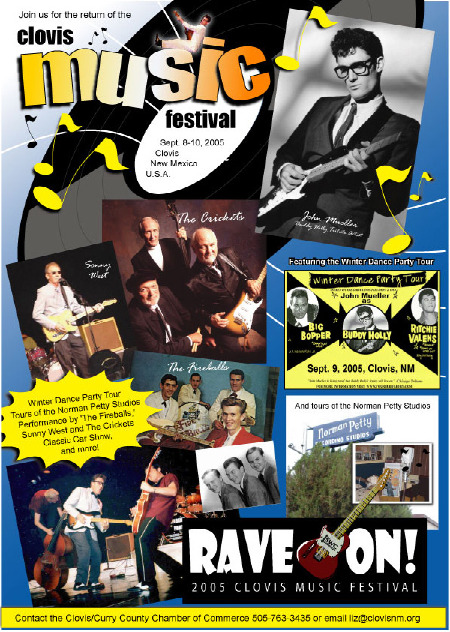 John sent me

this poster,

as well.

>>>> www.yourbuddyjohn.com <<<<

Attached is a black and white photo. "




Diese Mail und das Foto erhielt ich von dem weltweit wohl berühmtesten

Buddy Holly Tribute Sänger, JOHN MUELLER.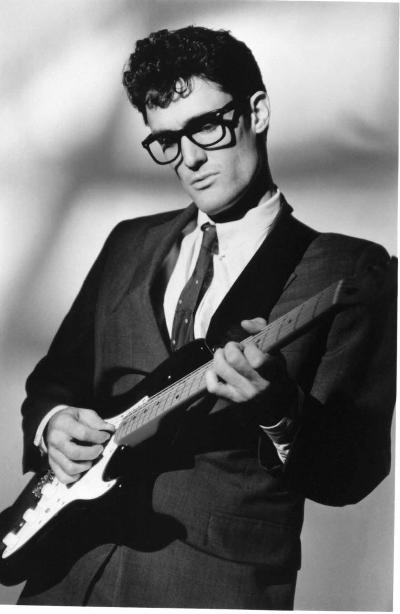 John Mueller has German forefathers.
He told me in an extra mail, that his mother wanted him go to school wearing "Leder- hosen", but he refused.



John Mueller hat deutsche Vorfahren, bei dem Namen nicht verwunderlich. Er erinnert sich noch genau, wie er mir in einer separaten Mail schrieb, dass seine Mutter ihn eines Tages in Lederhosen in die Schule schicken wollte. Er hat sich erfolgreich gewehrt.

GREAT SITE AND CHEERS TO YOU,


YOUR BUDDY, JOHN"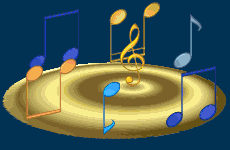 More about John taken from one of his internet pages:

Born and raised in Wichita, Kansas, John Mueller has enjoyed a successful acting and music career for many years including TV and film roles on E! , Ellen, Lois and Clark, Brisco County Jr., Return to Horror High and most recently the indie film Bloodline which will also feature two of John's original songs from his newly released CD, "Romance and Redemption." You may have also seen him on late night TV (we're talking 3:00am) as the spokesperson for a crappy guitar he no longer remembers the brand name of.

Perhaps best known for his worldwide acclaimed concert and stage portrayals of Buddy Holly, he first portrayed Buddy in a world premiere stage production of "Be Bop A Lula" in Hollywood that was produced by Adam Ant and The Door's John Densmore. He then won a Drama Desk Award for his portrayal of Buddy in the theatrical production of "Buddy..the Buddy Holly Story" at Kansas City's American Heartland Theatre and held this role in many other cities including, San Diego, Chicago, Toronto, and Miami. The Chicago Tribune: "John Mueller is living proof that Buddy Holly's legacy lives on. His lovingly detailed portrayal rings as clearly as a chord from a Fender Stratocaster. His performance is flawless." The Chicago Sun Times: "John Mueller gives a stunning portrayal."

Most recently, John undertook the portrayal of yet another American icon, Hank Williams in "Lost Highway" at the Old Town Theatre in Wichita, KS. John also performs and tours regularly in former Seinfeld writer Pat Hazell's "The Wonder Bread Years," a 90 minute comedic one man show and tell that's very funny and poignant.

Since 1999, every winter has found John touring the frozen midwest to re-create the Winter Dance Party that was to be Buddy Holly, Ritchie Valens and the Big Bopper's fateful and final tour. John has performed his Winter Dance Party show in every remaining venue that the originals did over 45 years ago and at many performing arts centers, theatres and casinos worldwide. The show has won the endorsement of the Holly and Valens estate and been described by critics and public alike as the most authentic re-creation done. In 1999 the show garnered John the keys to the city of Green Bay, Wisconsin from the mayor. Additionally, the show has raised substantial monies for musical scholarships and music education programs for under funded schools.

Recently, John was proud to have performed at the Rock and Roll Hall of Fame with John Mellencamp, Marshall Crenshaw, and Joe Ely to name a few. Other highlights include a live TV appearance with over 2 million viewers nationwide on the Jerry Lewis Telethon. John has also shared the stage with such greats as Taj Mahal, The Coasters, Bobby Vee, Marty Stuart, Dick Dale and Bill Haley's Original Comets, Kevin Montgomery and Robert Reynolds.

His first original CD entitled "A Boy's Gotta Do What a Boy's Gotta Do" was a fifties-esque blend of pop, rock, country and even surf and featured ten original songs and two covers. The bonus track "Hey, Buddy" (tribute to Buddy Holly) first debuted live in Chicago on WGN's Steve and Johnny Radio Show and was also included on their first ever "Best of Steve and Johnnie Show" live CD entitled "Life after Dark" on the Nation Records label. The song has also aired on regional stations across the U.S. as well as the UK.

His newest release is entitled "Romance and Redemption" which features more of John's original songs with many musical styles and influences: Rock and Roll, folk, country, and swing, i.e., American music at it's best.

Next up, John plans to do an unplugged acoustic album of new originals and covers. Though John is indelibly linked to Buddy Holly and Holly's influence can be heard in some of his songs, he'll forever continue writing and performing his own compositions and hopes to start where Holly left off: Creating new and vivid sounds in the classic American roots tradition.

Hail, Hail Rock and Roll !

Here are some pics John Mueller sent me in October, 2011, taken by a fan

in the legendary Laramar Ballroom in Ft. Dodge.

On one of the pics you can see famous Tommy Allsup.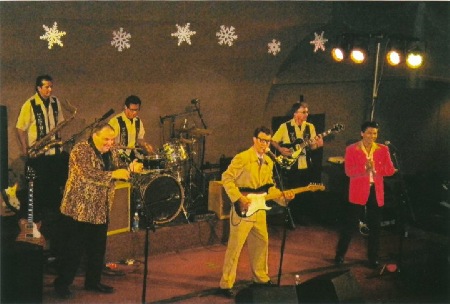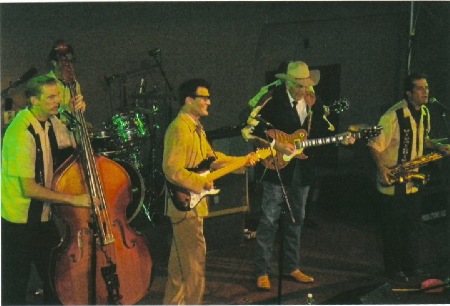 And here's the Surf Poster for 2012 including

John Mueller's Winter Dance Party.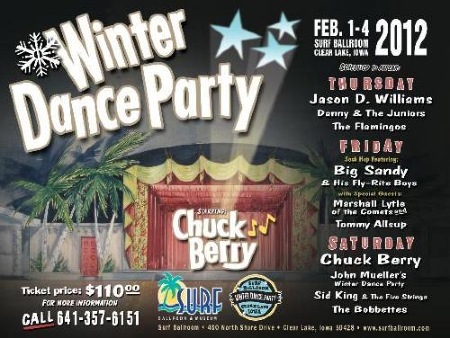 All pics by kind courtesy of John Mueller with written permission.


Terrific pages Hans Werner, keep up the good work my friend!

Peter Moorcroft, Derby UK