DICK STEWART AND SONS

A NEW HIGHLIGHT BY THE KNIGHTS

Rough times need an answer: HERE IT IS !!


GREAT STUFF : TIEMPOS MALOS, Good For Heart And Soul !


Love Hurts - Sleep Walk - Walk Right Back - My Way - Bulldog

Tiempos Malos (Hard Times) - Yellow Bird - Walk Don't Run

Afterglow - Soul Searching
THE STORY ABOUT AN UNUSUAL ARTIST AND HIS SONS

Dick Stewart from Albuquerque, New Mexico. USA

A Steve Snowden photo

| | |
| --- | --- |
| | |
| | Dick Stewart |
Mein 'Blutsbruder' Dick aus New Mexico, USA.

'Carnal Ricardo' desde Nueva Mexico.

| | |
| --- | --- |
| | |
| | T H E K N I G H T S |
| | |

Dick Stewart in 1961

Knights (a.k.a. King Richard and the Knights) had their beginnings in 1961

in Albuquerque, New Mexico (U.S.A.) during a time when instrumental rock ruled

the nation with The Ventures and The Fireballs leading the way.

Thus, the band (or combo as they were called back then) became a Ventures /

Fireballs clone playing 40 to 50 instrumental guitar songs per gig with no vocals

other than a Chuck Berry tune here and there to break the monotony.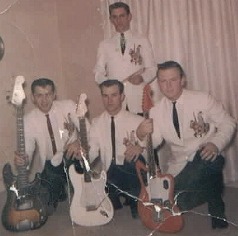 By 1964, the band finally developed an identity and released "Precision" on a

little label called Red Feather Records. This guitar instrumental with a classical

piano accompaniment became a regional hit (chiefly due to the unique combination

of these two musical styles) and set the record for the most time at number one for

a local release on the then ruling Albuquerque, New Mexico AM rock station, KQEO.

But when the Beatles invaded the U.S. in Feb. of 1964, it was a bad omen for The

Knights. They just couldn't give up their beloved guitar rock instro efforts and after

a few notable vocals on Delta Records, the band disbanded in 1967.


King Richard (Dick Stewart), however, jumped on the psychedelic rock band wagon,

not as a guitarist, but as a promoter, fanzine publisher (The Lance Newsletter), and

record label owner (Lance Records). Although Stewart had a successful two-year-run

with those companies that included a number of psychedelic and R&B 45-rpm

releases by Albuquerque artists who became well known in the Southwest U.S.

during the mid-'60s, he, nevertheless, turned his back temporarily on rock'n'roll

and directed his attentions to another taste in music: Mexican-American.

Thus, Dick replaced Lance Records with another label (Casanova Records) ultimately

releasing numerous vinyl albums and singles from 1968 to 1972. Many were hits in

the Hispanic market around the U.S. including some guitar instrumental efforts by

Stewart himself who was also a Casanova artist.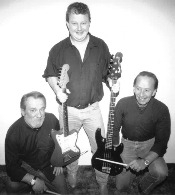 The Knights

After two decades of performing with his two sons (Jason and Richard)
in groups Dick named, Knee Deep, The Mountain Riff-Raff, and The Jyck
Monkey Band (pronounced "jick"), the boys burned out on their dad's genre
of music and moved to Austin, Texas in 1994 to further their own musical
careers as well as develop their own identity in music. Dick Stewart,
likewise, being relieved of his sons' musical influences, shortly thereafter
contacted one of the original bass players of the early Knights (Gary Snow)
and asked him if he would be into taking a trip back to their '60s guitar
instrumental roots. Gary jumped at the chance and beginning in late 1997,
they both dedicated a year of intense one-on-one practices relearning early
'60s Ventures' and Fireballs' covers.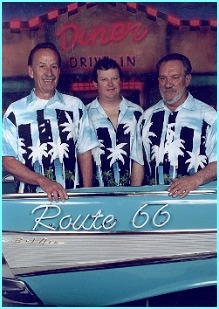 Have a look: This handsome young boy on the right with the beard is always busy in various

jobs, a multi talent, great to know him well !

From 1998 to the present, Dick Stewart has written more than twenty instrumentals as well as create a number of guitar instrumental arrangements to some choice melodious popular songs of the early to mid-'60s that were originally released as vocals. At the close of 1998, Stewart and Snow scored big with a very talented Albuquerque drummer (Steve Hudgins) who owns a garage sound studio (literally). Although he was only 2-years-old when The Knights originally formed, he picked up on the early '60s guitar instrumental style with ease and great interest.



So as a follow-up to Collectables Records' 1996 CD release ("Precision"), the band is in the studio once again this time for Lance Records which was recently awakened from a 32-year slumber. Dick Stewart's wife of 37 years, Judi, affectionately said something interesting to him not too long ago . . . "Old musicians never die, they just go on and on and . . . That's certainly true in his case, however, she admits that he is inspired more now than anytime during his nearly 40-year music career.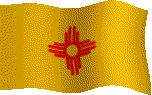 Dick lives in New Mexico.

He's so near to me through his music, although he lives far away.



45 RELEASES FROM 1964 THROUGH 1966

*************************************



1. 1964 -

"Precision" b/w "Cut Out" (Red Feather 18401) guitar rock instrumentals

2. 1965 -

"Lonely by The Sea" b/w "Moonbeam" (Red Feather) - guitar rock instrumentals

3. 1965 -

"Those Things You Do" b/w "I Want to Love You" (Delta R-2048) - frat rock vocals

4. 1965 -

"Why" b/w "That's the Way it Goes" (Delta R-2115) - frat rock vocals

5. 1966 -

"I Don't Need You" b/w "How About Now" (Delta R-2143) - frat rock vocals

6. 1966 -

"Work Out Sally" b/w "The Weatherman's Song" (Lomas R-2133) frat rock

vocal and children's novelty song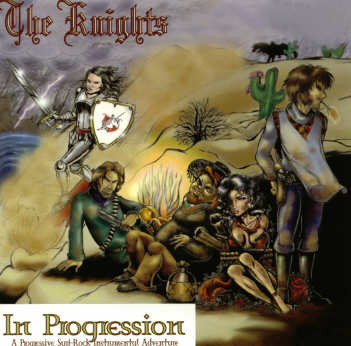 Surf - Rock is born again, I personally recommend

this CD to all those who like true instrumental rock

music in excellent quality !


I like the artwork, as well, looks very professional,

indeed !

THE KNIGHTS:

_____________

JASON STEWART - modern guitar


DICK STEWART - trad guitar


RITCH STEWART - bass


STEVE HUDGINS - percussions


JOHNNY HOGAN - steel guitar




1. In Progression (3:52)

2. Ragtime Surf (2:38)

3. Torreon (4:21) - I like it -

4. Yellow Jacket (3:04)

5. Awakening (3:36) - My personal favorite -

6. Surfin' the Badlands (4:12)

7. Pipeline (4:16) - Another great performance, wow ! -

8. Shelbi with an "i" (4:08)

9. Aqua Loca (4:31)

10. Simple Wonders (1:58)

November 2007

GREAT NEW RECORD BY MY FRIEND KING RICHARD AND THE KNIGHTS:


WOW !!!

I play this record in my car day by day, it sounds gorgeous !

Brings back memories, as there are some 'oldies' in new arrangements

and a lot of songs I never heard before. The KNIGHTS make a very

good job, indeed ! Thumbs up, Dick !


KING RICHARD'S RED HOT NEW MEXICAN CHILE STEW - ART !

LANCE RECORDS (L-2011)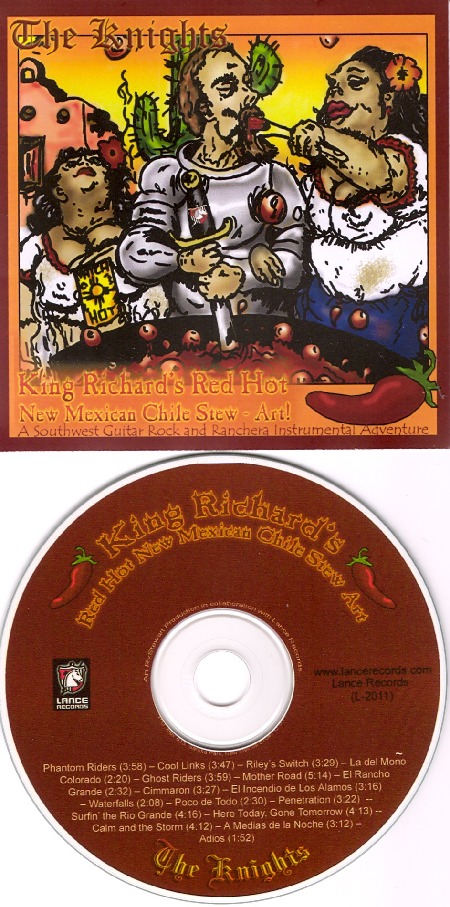 The Knights

Phantom Riders

Cool Links

Riley's Switch

La del Mono Colorado

Ghost Riders

Mother Road

El Rancho Grande

Cimarron

El Incendio de Los Alamos

Waterfalls

Poco de Todo

Penetration

Surfin' the Rio Grande

Here Today, Gone Tomorrow

Calm and the Storm

A Medias de la Noche

Adios


CD AND VINYL RELEASES SINCE 1996



1. 1996 - "Precision" (Collectables 0684) A nineteen-track CD reissue compilation

of early to mid-'60's 45 releases by New Mexico artists out of which twelve are

Knights' efforts.

2. 1999 - "I Don't Need You" (Lance 2000) A fourteen-track 12" vinyl reissue

compilation of The Knights '60's 45s plus two '80s tracks.

3. 1999 - "Surfin' the Web" (Lance 2001) A ten-track CD album of newly

recorded surf guitar instrumentals in the early '60s traditional style.

4. 1999 - "Jyck Monkey Time" (Lance 2004) A ten-track CD reissue compilation

of The Knights mid -'80's vocal efforts when the band was known as Jyck Monkey.

5. 1999 - "We're the Mountain Riff-Raff" (Lance 2008) A thirteen-track reissue

compilation of The Knights early '80's vocal efforts when the band was known as

The Mtn Riff-Raff.

6. 2000 - "Lobo Power (Lance 2005) A nineteen-track reissue compilation of The

Knights' early '90s vocal efforts when the band was known as Jyck Monkey.

7. 2000 - "Surfin' the Southwest, Santa Fe Style" (Lance 2003) An eleven-track

CD album of newly recorded rockabilly/surf guitar instrumentals in the early '60s

traditional style.

8. 2000 - "El Papalote" (Lance 2006) - A thirteen-track compilation of new and

vintage songs (both vocal and instro) including four hit Mexican-American style

ranchera instrumentals that were recorded and released on 45-rpm in the late '60s.

9. 2000 - "Then and Now" (Lance 2009) - A fourteen-track compilation of five

Knights' '60s tracks followed by their modern versions, plus four new compositions.

10. 2003 – "In Progression" (Lance 2010) ten tracks of progressive, surf-rock

guitar instrumentals.

11.2005 - Did you know that The Knights contributed one of the tracks to The

Fireballs tribute album that's been released by Ace on the 31st of October,

2005? They did "Kissin'" with Ritch on bass and Jason and Dick Stewart on

guitar. His wife Judi made the kissing sounds.

_______________________________________________

LANCE MONTHLY

_______________________________________________

The first time I met my friend Dick in the internet was reading articles in his well

respected "LANCE MONTHLY". I was looking for articles and interviews about Buddy

Holly and related persons and I found a lot in best quality, he is an excellent

interviewer.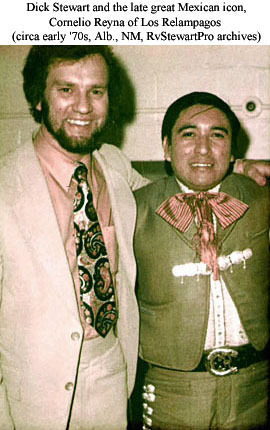 Looking back into the '70s. Dick Stewart and Cornelio Reyna, the late great

Mexican icon of LOS RELAMPAGOS. Photo by courtesy of Dick Stewart.

I checked the LANCE MONTHLY Archives and was very surprised about the lot

of material I found. You can see that Buddy Holly is always a topic worth to

be printed and published worldwide.

Here's what I found: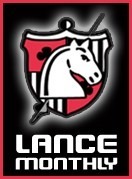 Buddy Holly Monthly ?

Ich habe meinen Freund Dick Stewart über das Internet kennengelernt.

Auf der Suche nach Artikeln und Interviews betreffend Buddy Holly und Personen,

die in irgendeiner Beziehung zu Buddy Holly stehen, stieß ich auf das renommierte

Musikmagazin "LANCE MONTHLY". Die Interviews sind alle in bester Qualität geführt,

Dick ist ein exzellenter Interviewer.

Auf meiner Suche in den Archiven des LANCE MONTHLY bin ich überraschend oft

fündig geworden. Das Thema "BUDDY HOLLY" zieht sich wie ein "roter Faden" durch

die Mehrzahl der monatlichen Veröffentlichungen. Wie man sieht, ist es ein Buddy

Holly Thema immer wert, gedruckt und weltweit verbreitet zu werden.

Hier kommt das, was ich gefunden und zum Teil auf meiner Homepage veröffentlicht

habe:

December 2002
George Tomsco (Legendary lead guitarist for the Fireballs)
May 2003
Gary and Ramona Tollett (Backup singers in Buddy Holly's
"That'll be the day")
June 2003
David Bigham of The Roses (Member of a legendary vocal
group that backed Buddy in most of 1958)
July 2003
Sonny West (Principal composer of Buddy Holly's " OH BOY"
and "RAVE ON".)
August 2003
John Pickering of The Picks (The real voices behind
many of Buddy Holly's hits)
November 2003
Sonny Curtis ("The world's best known unknown songwriter")
December 2003
Sally Nesman of the Nesman Sound Studio in Wichita Falls (A '50s sound studio
of historic significance. Buddy Holly had his first real studio experiences there.)
January 2004
Jerry Naylor (Vocalist for The Crickets in early '60s;
major '50s rock'n'roll pioneer)
February 2004
Clyde Hankins (A gifted guitarist from the Swing-band era with a key
Buddy Holly connection)
April 2004
John Beecher (President of Rollercoaster Records and one of the world's
leading Buddy Holly historians)
June 2004
Peggy Sue Gerron (The real Peggy Sue)
August 2004
Carl Bunch (The frostbitten Cricket,
Buddy Holly's
drummer during the tragic
Winter Dance Party tour)
November 2004
The Fourth Holly International Symposium (And possibly the last)
December 2004
Texas Mike Bell (Candid confessions of a rebel Texas
guitar slinger, he released the great CD
"For The Love Of Buddy" with Tommy Allsup)
January 2005
Texas Mike Bell (Second half)
February 2005
Jim Ratts (Runaway Express), who released two great Buddy Holly tribute CD's:
"Yeah, Buddy!" and "Oh, Boy!"
April 2005
The Apartment Tapes' Informal conversations between Buddy Holly and his
widow, Maria Elena.
July 2005
Clovis Music Festival Returns September 8, 2005.
Sept./Oct. 2005
Bo Diddley in Concert (San Mateo County Fair, San Mateo California 08/18/05)
The above mentioned articles are examples only.

I could continue with a lot more Buddy Holly topics.

_____________________________

THE CONCERT, January 23, 2005

_____________________________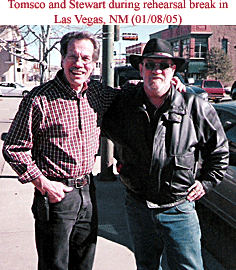 2 Dinosaurier im Musikgeschäft.

George Tomsco von den Fireballs und Dick Stewart von den Knights sind hier

Anfang 2005 in Las Vegas, New Mexico, zusammen abgelichtet worden.

Vom Alter her sind sie identisch, aber beide juckte es in allen Gliedmaßen, die

guten alten Zeiten noch einmal Wirklichkeit werden zu lassen.

Beeindruckend die Harmonie und das lockere Auftreten der beiden alten Strategen,

die bei diesem historischen Auftritt in Albuquerque von Minute zu Minute immer

jünger wurden.

Zum Glück haben sie früh genug aufgehört. Andernfalls: Baby - Alarm !

DICK STEWART and GEORGE TOMSCO

*********************************

AN EVENING AT THE ATOMIC CANTINA IN ALBUQUERQUE, NEW MEXICO

****************************************************************

THIS IS MUSIC HISTORY

**********************

Two "young boys" on stage younger than ever, almost 18 !

****************************************************

| | | |
| --- | --- | --- |
| | | |
| George Tomsco played together with King Richard. | | |
About the DVD :

The audio and video of this hour-and-thirty-minute DVD came out very well

and George's picking skills of his legendary songs are very visible and impressive.

The dialog is humorous (lots of personality on stage), and the introduction of

each song by Tomsco is very historic to say the least.

Also, the response of the fans that were present is very enthusiastic.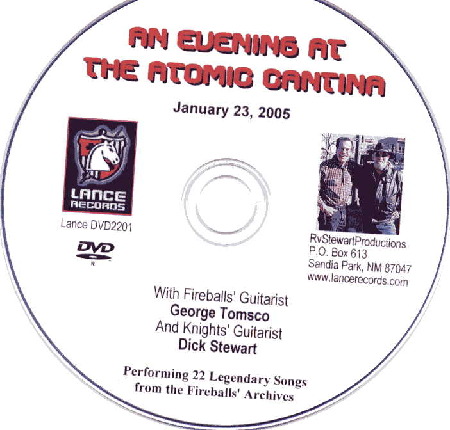 It's absolutely rare, it's fabulous and I like it !

________________________________________________________________

Das Konzert zweier Dinosaurier der Musik, George Tomsco von den Fireballs und

Dick Stewart von den Knights, fand statt am 23. Januar 2005 in der sogenannten

"ATOMIC CANTINA" in Albuquerque in New Mexico.

90 Minuten Musik mit 22 Titeln aus den Archiven der FIREBALLS, meistens

Instrumentaltitel, alle angesagt von George Tomsco, auf der Bühne kam ein Gefühl

bei den beiden alten Herren (jeweils 65) auf, das man schon als Jungbrunnen bezeichnen

kann. Die fühlten sich beide wie 18, ich weiss es aus ganz sicherer Quelle von einem der

beiden Beteiligten an diesem Konzert.

Es gibt dieses Konzert auf DVD, aber die Krux ist, daß dies nie als eine Geschäftsidee

geplant war.

Weltweit sind nur wenige Exemplare verfügbar, ich darf mich glücklich schätzen, eines

dieser Originale zu besitzen, da Dick Stewart ein sehr guter Freund von mir ist.

Jason ist einer der beiden Söhne von Dick Stewart, ein Universalgenie. Ich bin im Besitz

einer CD, die Jason produziert hat, sie heisst "FRENZY". Der absolute Wahnsinn. Er ist

die Band. Ohne Scherz. Er hat ALLE Instrumente gespielt, sich also immer wieder selbst

begleitet, bis die ganze Sache komplett war. Die Arrangements, die Technik, das Mischen,

alles in einer einzigen Hand.

Apropos Hand:

Ich habe das Gefühl, Jason hat an jeder Hand 10 Finger, anders kann man so nicht Gitarre

spielen. Ich weiss wirklich nicht, wie er es macht, er ist ein genialer Künstler.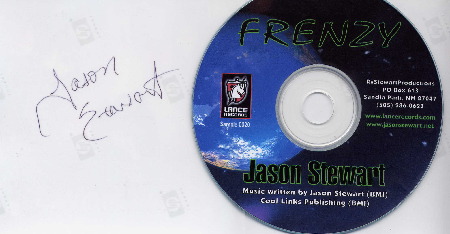 Hier die CD mit persönlichem Originalautogramm von Jason Stewart. Hut ab vor dieser

Leistung. Der wird sicher seinen Weg machen. Irgendwann kommt keiner an so einer

außergewöhnlichen Leistung vorbei.

T R A C K S :

||||||||||||||||

Chicken Pickin'

Frenzy

Alien Funk

Epsilon Theta

The Old Country

Tooth and Nail

Soul Searching

Breezin'

Phrygian Nightmare

Once Upon A Time

Surfer X

Lend Me Your Ears

Waterfalls

Jungle Run

Estonia

Blue Harmonics

Dark Forest

The Morning Song

Humor Me

Phrygia

Madness

HATS OFF TO JASON STEWART ! ! !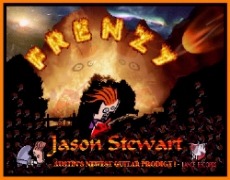 CD " Frenzy " Front Cover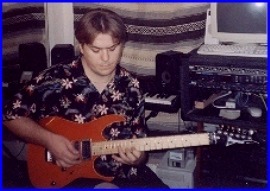 Somehow it's unbelievable:

Jason is a guitar player just like millions around the world, but he's the twenty finger man.

For me it's sensational how he makes his job on this great CD as a "ONE MAN BAND".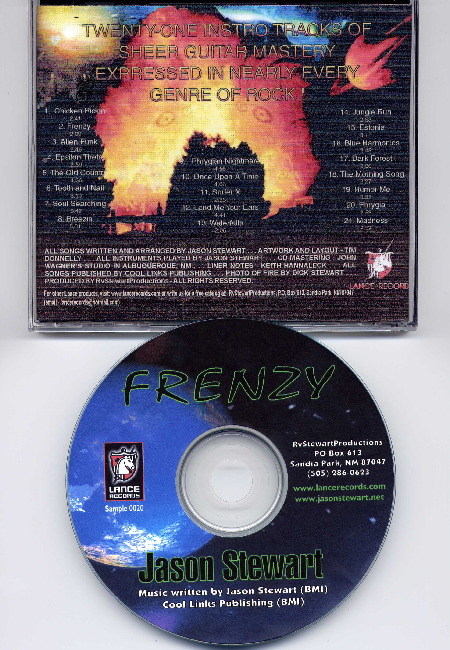 It's true, Jason plays all instruments and he writes the arrrangements,

he's the producer and all the technical stuff is his job, too. On the photo

I only investigated 10 fingers, but that's not enough to release such a

great CD, the hidden fingers must be there, otherwise I'm not sure to

understand why he makes such a gorgeous music that needs more than

20 fingers . Let me repeat: Unbelievable !

| | |
| --- | --- |
| | |
| | R I T C H S T E W A R T |
| | |
In a time when so many men lead lives of "quiet desperation," there is

one man who can bring hope to those who search for answers to the

deeper questions in life.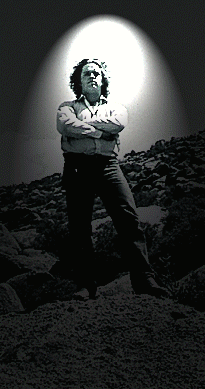 Richard Axtell Stewart is just such a man.

His music recognizes the depths of the human condition as well as the heights

of blissful serenity. He intuitively creates music that taps into the human heart

and inspires the soul.

Richard ist der zweite Sohn von Dick Stewart. Er ist ein Folk Rocker, der gerade dabei

ist, seine erste CD zu veröffentlichen. Ich hatte die Gelegenheit, drei seiner Titel zu

hören, die auf der neuen CD sein werden, ich bin ohne Vorbehalte begeistert, diese

Familie aus New Mexico hat was, da geht kein Weg dran vorbei, die Musik steckt allen

in den Knochen seit der Geburt !!


This New Mexico native son is well versed in philosophy, history and the esoteric

mysteries in life. Strongly influenced by his passions (Native American culture, American

History and the astonishing perfection of nature), Stewart writes music that runs deep

in the veins of the human heart..

Stewart grew up in Albuquerque, NM, and has been a connoisseur of good music

for as long as he can remember. In high school he took four years of guitar and

was a standout in his class. He has played and created in many bands over the

years and is of the belief that the best is yet to come.


Stewart is versatile in his musicality. He plays acoustic and electric guitar, bass,

and sings, as well. He is especially noted for his "dream-like" metaphorical lyrics

that entice the soul of the listener to take notice.

His music runs from catchy folk tunes to melodious ballads to progressive rock.

He always stays focused on writing addictive melodies and great lyrics that have

a wide reaching appeal to the public.

November 2007





There's a new record in my collection called "BACK IN THE MOAT" by

RICHARD AXTELL STEWART in cooperation with his brother JASON.

Richard is the vocalist, Jason plays lead guitar, keyboards and sings

the back-up vocals. A dynamic duo with their debut album.

The styles of the songs are different, soft, medium, hard.

A pleasure to listen to. These 2 talented guys deserve success !


LANCE RECORDS (L-2012)



Back in the Moat (This is MY favorite song)
Cain and Abel
Flyin'
Throw Your Love Away
Change Your World
Mountain Climbin'
Thinner Than Air
Electric Chair
Some Things You Lose, You Can't Let Go of
The Rage of the Snake
The Penalty of Love
When the Rocks Cry Out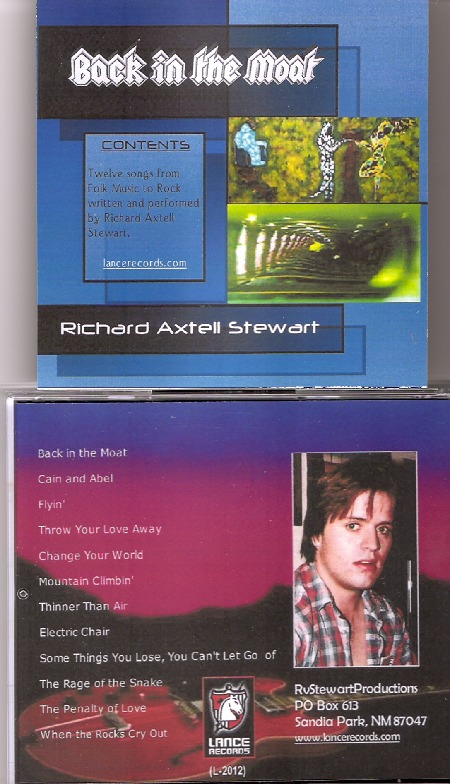 Fanpost

ich sag nur ein wort: GEIL!

mehr braucht man nicht, um diese Seite zu beschreiben!

Danke, Cindy