Buddy Holly vive - Buddy Holly lebt - Buddy Holly lives


JOHN BEECHER presents:


CLOVIS MUSIC FESTIVAL 2006 (1)


Credits to Liz


for the wonderful photos.





The Clovis Music Festival 2006



( by John Beecher )

Part 1

Proudly presented by:

I admit it – in my time I have said some harsh words

about Clovis, New Mexico.

But thanks to the Clovis Music Festival, I was happy to get back there

again this year; it's a much bigger town these days with all the usual

fast food and chain stores spreading it ever wider - although

fortunately the downtown area is largely just as it was back in the

60s and 70s – until they demolish it all that is.

The main landmark, the Clovis Hotel, is in a sad state having declined

from an old but quite classy business hotel to a pigeon-infested shell

in the years since 1978 when I met Norman Petty there with John

Goldrosen.

Norman of course was a pioneer in the recording industry and his work

with local artists made him (and Clovis) a legend in his lifetime; sadly

something that he found difficult to live up to.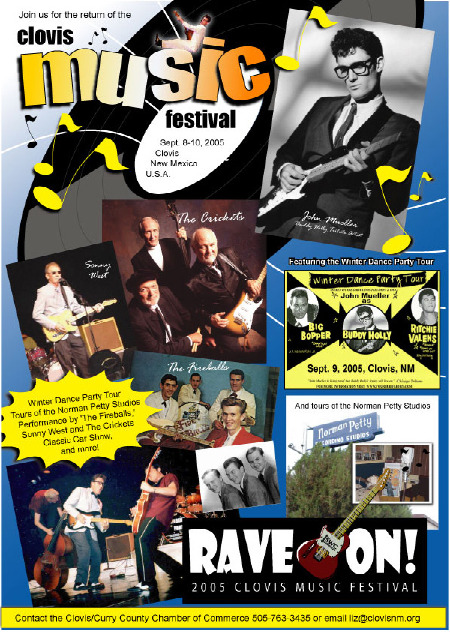 This is the

Clovis Music

Festival 2005

Poster.

With the inspiration of the music of Norman Petty's studios and

encouragement from Vi Petty, the Clovis Music Festival was first

staged in 1986. It had the blessing of many of the artists who

recorded in Clovis, and through the hard work of Clovis historians

John Ingman and Jerry McNeish, became an annual event.



However by 1990 the Festival was floundering and Vi's death in

1992 pretty well sealed its fate; meanwhile the Lubbock Festival

had gone the same way due to interference from Maria Elena and

her lawyers.

Fortunately someone in Clovis still cared about the studios and

a September Festival – Liz Eisenbraun, who was born in the UK,

had married and moved to Clovis in the late 80's, and was

fascinated to find that the original Norman Petty Studio still

stood on the same site and was "just as it was in the 50's".

Liz told me in 2004 that she was keen to increase awareness of

the studios and at the same time get the Clovis Music Festival

up and running again - something she was qualified to do as

Events Director of the Clovis Chamber of Commerce.

Despite warnings from me and others, Liz pressed on with her

dream and soon had sponsorship organised and artists

contracted. The September 2005 Festival, which featured

The Crickets, Sonny West, The Fireballs and the John

Mueller's Winter Dance Party Show , was soon sold out and

with many hotels fully booked the success of the Festival -

and its future - was assured.


Sonny West on stage with England's Mike Berry, well known for his unique song "Tribute to Buddy Holly".

A legendary song.

And Sonny is a legend, as well.

He was the first one to record "OH, BOY" and "RAVE ON". You must know, he is the author of these timeless hits. Songs, that Buddy covered soon afterwards. And Buddy was the one, who climbed the charts with Sonny's songs. It's very important to know about these facts.

This year's line-up again included Sonny West, John Mueller and

The Fireballs with the added attractions of Mike Berry & The

Outlaws, The String-A-Longs and Tommy Roe. With nearly

a week of fringe events, tours of the studios and theatres

and a lot of chattering going on between fans and artists,

the event was certainly worth the admission – just $15!

(To be continued on page 2 !)











Big Bopper jr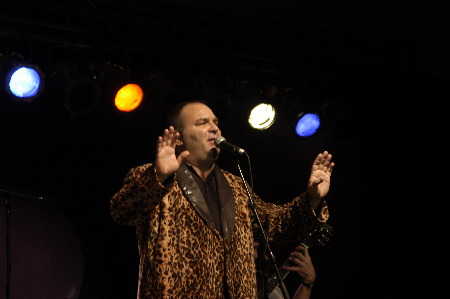 Bopper on stage






Junior Rockers

at School Assembly

Friday morning






Kids get ready to rock -

what's John Beecher

doing here !







School assembly


was never like this.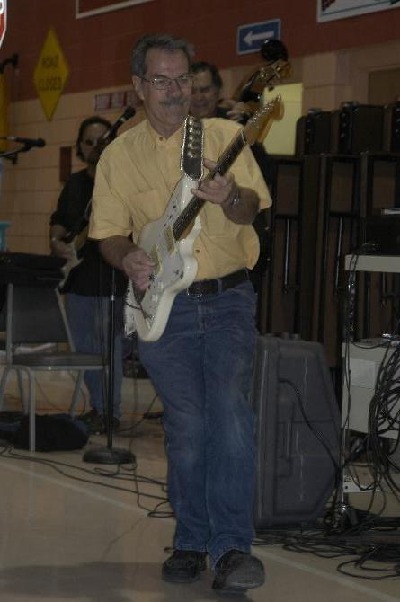 George Tomsco

rocks the school






Gary & Ramona

Tollett provide

the backup

and have fun










Crowd









Crowds arrive






Hey buddy !


It's John


Mueller . .








Is that

Ritchie Valens ?








Jason the

soundman got

the stage

sound just right!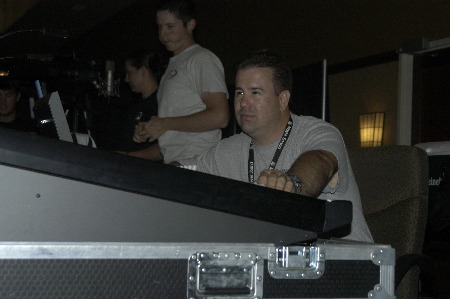 Jason

the soundman

John Mueller congratulates guitar winner & future star. This little boy looks a little bit like Tommy Allsup, and somehow like Buddy, because of the glasses.











Your . .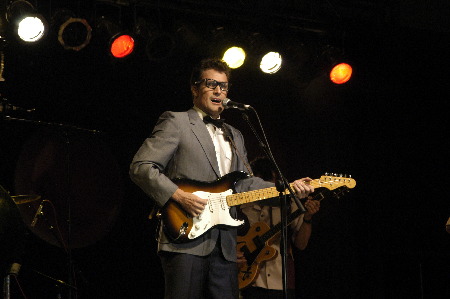 buddy . .











John !

Weiter geht es auf Seite 2. To be continued on page 2.