My German brother in Buddy, Lothar, sent me this photo as seen on Facebook.

You can see Buddy (marked) and Don Guess beside him on the right.

Behind Buddy and on his left are Sonny and Dean Curtis.

In the lower left area is a black-haired lady with a hat.

It's Wanda Jackson. What a find!

The pic was taken in 1956 in Nashville at the DJ Convention.


© LIFE




Here's the message I received from German fan Lothar:


Well I don't think even Dylan fans would say he ever had 'a voice' - he's Dylan and that's how he sings.


Some even say that nobody sings his songs the way he does - (because) all others make a better job!

https://www.youtube.com/watch?v=maUZkWX_IqU

Enjoy !

Buddy Holly Auction Dec 9th 1PM 2017

Mid-Hudson Galleries

The Collection of LeRoy Morford 1000's of items in 500 lots.

Online at www.liveauctioneers.com and click on to

catalogue also at www.midhudsongalleries.com

Mail inquiries to mag2715jag@aol.com
| | |
| --- | --- |
| | |
| | |


Eagle Rock released the film Rave On: The Buddy Holly Story in digital formats on Friday (December 1st). We were sent the following details/synopsis: Rave On: The Buddy Holly Story, produced by 1515 Productions, explores Holly's life and story via interviews with those who knew and worked with him, as well as prominent music fans who were influenced by his work.


The film presents contributions from Jerry Allison (original member of The Crickets), Dion, Brian May (Queen), Don McLean, Paul Anka, Edna Gundersen (USA Today), Larry and Travis Holley (Buddy's brothers), and Holly's widow, Maria Elena Holly, as well as others.


Hailing from Lubbock, TX, Buddy Holly introduced a revolutionary take on melodies and rhythms that stretched beyond the traditional blues roots of Rock and Roll. In the 1950s age of solo stars, Holly led his pop group The Crickets with a songwriting approach that pushed pop music to new creative heights, as evidenced by his breakthrough hit "That'll Be The Day", "Peggy Sue", "Everyday", and his other classics.


With his thick-rimmed glasses, lanky stature and "hiccupping" vocalizations, Holly presented a new, unique image and sound that cemented his status as an icon. Buddy Holly's life was tragically cut short in a plane crash in February 1959.


However, the musical imprint he left in the mere 18 months after the release of "That'll Be The Day" rendered him immortal.


His story deserves to be told again for a new generation, which Rave On: The Buddy Holly Story proudly delivers.

I have lived in Dortmund since my birth.

For about 45 years I have been a subscriber of the biggest

Dortmund daily newspaper "RUHR - NACHRICHTEN".


Today, November 16, 2017, this article caught my eye.


55 years ago, in 1962, the BUDDY HOLLY CLUB was

founded in my hometown.


The former members meet once a year and talk about the

good old days. Guests are always welcome!


Just to let you know.

Cheers from Germany, HANS




© RN Dortmund 2017




Another unknown photo of Buddy Holly and Jerry Allison.



Sent in by Lothar, who wrote:


Guess I've never seen this photo before !




Who knows, where and when it was taken ?






An outstanding photo of one of the heroes of my youth.


I've never seen this pic before.


I like it, I like it very much, gorgeous !


Posted by Lothar Pedd, thanx a lot, my friend !

Just to let you know !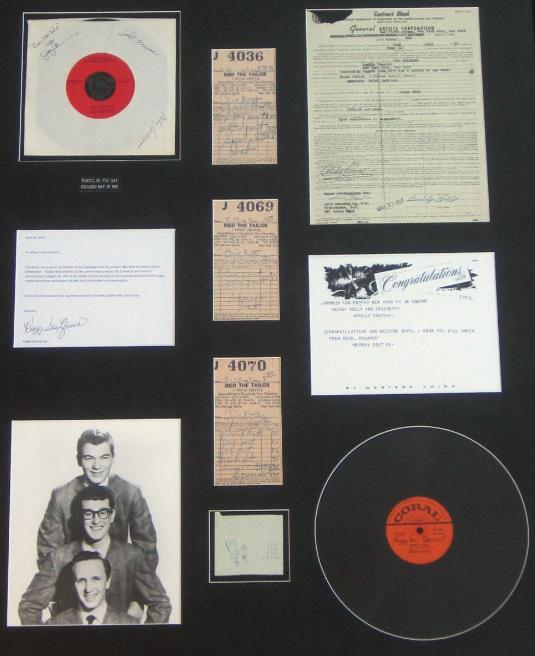 | | |
| --- | --- |
| | |
| | |




Buddy Holly (and The Crickets) Signed Contract for the Apollo Theatre Engagement (New York City, August, 1957) Including 2 Rare Vinyl Records: 45 RPM Signed by 3 Crickets on sleeve (Post 2/3/59) and 78 RPM Coral Record signed by Peggy Sue. Framed and ready to hang for the ultimate man cave Rock and Roll masterpiece. Included are additional provenance items and COAs on front and back of frame.



Buddy Holly, like Elvis Presley, crossed racial and music genre lines alike in his ascension to Rock icon status. He charted on Billboard's Hot 100, Top R&B Singles, and Top Country Singles lists simultaneously, with his unique blend of Rockabilly, Country, and R&B undertones. One of his triumphs came when the Crickets toured as the only white act in a national tour of black venues, including the famed Apollo Theatre in Harlem. The group performed for a week there about the time their first hit "That'll Be The Day" was debuting on the radio. It took a few days, but Buddy and Co. won over the mostly black crowd that week in an impressive tour de force. Offered here is the signed contract for the historic engagement, with Buddy signing for the group. One thousand dollars for the week doesn't sound so bad, but that was for the entire group, which at that time consisted of four members. Also included are three receipts for services by "Reid the Tailor" during the week. Buddy had to look his best -- Rock history beckoned!



I have had some of these items for sale before on both EBay and Heritage before deciding later that I simply couldn't part with them and wanted them for my personal collection. Well, things change and unfortunately (for me) I have decided to put these one of a kind items for sale. :-( It is rare to find ANYTHING signed by the late great Buddy Holly, let alone a document to one of the most historic rock engagements in history.



Free shipping and insurance.
© ebay

Sent in by Lothar Pedd


| | |
| --- | --- |
| | |
| | Jeffrey K. Smith |
Nearly six decades have passed since a small plane crashed in a snow-covered field in north-central Iowa, killing three popular rock and roll entertainers, Buddy Holly, Ritchie Valens, J.P. "the Big Bopper" Richardson, as well as their charter pilot, Roger Peterson. That tragic day, February 3, 1959, later immortalized in singer and song-writer Don McLean's unforgettable ballad, American Pie, is often remembered as "the day the music died."

Many music historians credit the origin of rock and roll to Bill Haley, a native of Chester, Pennsylvania. In 1954, Haley and his band, the "Comets," recorded "Rock Around the Clock", which was featured on the movie soundtrack for "The Blackboard Jungle." The controversial film centered on the lives of teachers working in an inner-city, racially mixed high school. "Rock Around the Clock" was such a success that it remained Number One on Billboard's pop music hit chart for an incredible 22 weeks (it was also the first rock and roll record to top the Billboard chart), and catapulted Bill Haley and the Comets to stardom. In like fashion, many of those same historians regard the sudden, unexpected death of Buddy Holly as the beginning of the end for the first generation of rock and roll music.

While Elvis Presley is widely acknowledged as the "king of rock and roll," unlike Buddy Holly, he was neither an accomplished musician nor a prolific song-writer. In a professional career lasting just 18 months, Holly, either as a solo artist or in concert with his band, the "Crickets," recorded 10 singles that ranked among Billboard's Top 100 popular music songs (seven made the Top 40, three were in the Top 10, and one, "That'll Be the Day," reached Number One). Holly and the Crickets also cracked the American rhythm and blues chart on 11 occasions (four made the Top 100, four were in the Top 40 and three made it into the Top Three)—a significant accomplishment for white performers of that generation.
Of perhaps greater significance, 27 records cut by Buddy Holly or the Crickets were among the Top 100 most popular songs in the United Kingdom (25 made the Top 40, nine were in the Top 10, and two climbed all the way to Number One). The distinction between singles released under the name of Buddy Holly and those credited to the Crickets is merely a legal formality, which will be later explained in greater detail. Regardless of the name of the artist or the record labels, Holly is always the lead vocalist, and in most cases, the lead guitarist. Holly's singles' discography, both in the U.S. and U.K. is located at the end of this book.

Holly's influence on British music is indisputable, and his tour of the United Kingdom in 1958 profoundly shaped the careers of future rock and roll stars, like John Lennon, Paul McCartney, Keith Richards, Eric Clapton, and Elton John. It can be argued that the so-called "British Invasion" of the early 1960s might never have occurred, or at least would have been delayed, absent Buddy Holly's prior American Invasion. It is not mere coincidence that the first record cut by John Lennon's pre-Beatle's band, the Quarrymen, was Holly's "That'll Be the Day." In addition, the Rolling Stones' first American hit was the cover of a Holly song, "Not Fade Away."
In less than two years, Holly not only demonstrated considerable gifts as a performer, but also was a prolific song-writer and budding record producer. Insisting upon creative control in the studio, Holly demonstrated remarkable facility with now-primitive recording technology available in the late 1950s. He soon mastered the techniques of overdubbing, echoing, and double-tracking. During stage performances, the Crickets' original music line-up, featuring a lead guitarist, rhythm guitarist, bass player, and percussionist, became the standard model for subsequent rock and roll bands. Holly was also one of the first rock and roll artists to use the famed Fender Stratocaster guitar to produce the genre's now-familiar driving beat.

Holly was willing to employ instruments not considered part of mainstream rock and roll, such as the celesta and the organ. For the discerning listener, there are hidden gems in Holly's tunes; drummer J.I. Allison tapping the knees of his blue jeans as the sole means of percussion in "Everyday," pounding an empty cardboard box instead of his drum set in "Not Fade Away," and playing rhythmic paradiddles in "Peggy Sue." Near the end of his short life, Holly pushed the rock and roll envelope, performing with a symphony orchestra. The aptly named "string session" produced unforgettable songs, including "It Doesn't Matter Anymore" and "True Love Ways."

Buddy Holly's voice is unique and easily-recognizable, with alternating falsettos, distinctive hiccups, and mesmerizing stutters. Who else could expand the pronunciation of the name "Sue" or the word "well" into six unforgettable syllables? Holly's songs include driving rock and roll, like "That'll Be the Day," "Oh Boy," "Peggy Sue", "Not Fade Away," and "Rave On," as well as gentler, romantic tunes, including "Maybe Baby," "Wishing," and "Everyday." Some of his songs, for example "Well All Right," are simple in construct, using only a rhythm guitar, bass, and the repetitive tapping of a lone cymbal as instrumentation.

Holly's popular, yet easy-to-learn melodies, inspired a legion of followers, including John Lennon, Paul McCartney, Keith Richards, and Bob Dylan. In 1986, Rolling Stone magazine ranked Holly as Number 13 among its "100 Greatest Artists." That same year, he became a charter member of the Rock 'n' Roll Hall Fame.

Lacking the flamboyance of Little Richard and Jerry Lee Lewis or the sexy, movie star charisma of Elvis Presley, Buddy Holly was akin to the boy-next-door. Nonetheless, Holly proved that a rock and roller wearing eyeglasses could generate a sound that made teenage girls swoon and inspired boys to hit the dance floor with their sweethearts. While Holly's bespectacled face never graced the covers of teen magazines or appeared on the big screen, his music will last forever.

Buddy Holly's musical career occurred at a time when many religious fundamentalists condemned rock and roll as crude, immoral, and even Satanic. Segregationists and racists crudely characterized rock as "Nigger Music." These narrow-minded, misguided views were held by many citizens in Holly's hometown. Not until years after his death did Lubbock, Texas finally begin to acknowledge and appreciate the musical genius of its most famous offspring.
The circumstances leading up to Holly's untimely death are both sad and bitter. Believing that a significant portion of his song-writing royalties were being sequestered by his secretive, likely unscrupulous manager, producer, and early benefactor, Norman Petty, Holly was in dire financial straits, and felt it necessary to join the ill-fated Winter Dance Party tour in early 1959, which culminated in his premature death.

What would the future have been like for Buddy Holly? He had plans to construct a studio to record promising young artists. He also wanted to establish his own record label and publishing company. Holly would have likely continued pressing the envelope of rock and roll and eventually explored alternative musical genres. These are among the great "what ifs" in musical history.

"Listen To Me: The Brief Life and Enduring Legacy of Buddy Holly" is a compelling story about a talented, innovative, and ambitious pioneer of rock and roll music.


AVAILABILITY: Paperback (June 10, 2017) and Kindle (June 17, 2017)

Source: © New Frontier Publications and amazon.com
© The Enterprise Ledger
Dr. Jeffrey K. Smith went a bit out of his comfort zone, he said. After writing 12 books in his "Bringing History Alive" series — most of which have focused on political figures or major events — Smith, an Enterprise native, delved into entertainment and culture with the life of rock 'n' roll pioneer Buddy Holly with the publication of "Listen to Me: The Brief Life and Enduring Legacy of Buddy Holly.""I've just always been amazed by his musical genius and how relevant he remains on the music scene nearly six decades after his death," Smith said. "I will say I probably had more enjoyment researching this book, traveling to various sites, than any book I've written so far."Smith had a book signing featuring "Listen to Me" on Saturday at the Enterprise Public Library. Smith, who now lives in Greer, South Carolina, said his fascination with Holly began not with any of Holly's songs, but with a song about him. When Smith was 10 years old in November 1970, the Don McLean song "American Pie," which is about the plane crash that killed Holly and others in 1959 in Iowa, began its march up the charts. A few months later, "American Pie" was the No. 1 song in the United States. Smith said it was the first time he had heard of Holly, who died shortly before Smith was born, and he educated himself on the singer's life. Holly's career lasted about 18 months, but in that span he or he with his band the Crickets had 10 songs ranked in the Billboard top 100, Smith said. Holly also had 11 songs that made the rhythm-and-blues charts, which was rare for white performers at that time. Overseas, Holly had a huge impact as well, with 27 top-100 hits in the United Kingdom, Smith said. When Paul McCartney and John Lennon were in the pre-Beatles group the Quarrymen, the first song they recorded was a cover of Holly's "That'll Be the Day," and McCartney now owns Holly's songbook. Also, the Rolling Stones' first hit song was "Not Fade Away," another Holly tune. An argument Smith makes in his book is whether there would have been a British Invasion of rock music in the 1960s if Holly had not had the impact he had in the late 1950s, or if the Invasion would have been delayed. Smith said he had not come across an "A to Z" book on Holly's life, so he decided to write one that covers the singer's full life and influence. As part of his research for the book, Smith traveled to Iowa to the site of the plane crash, as well as Holly's hometown of Lubbock, Texas. He visited the Surf Ballroom in Clear Lake, Iowa, the venue Holly played in just before the fatal crash later that evening. Smith stood on the stage where Holly performed, as the ballroom is still used today as a concert site and museum and draws thousands of visitors each year. When Smith and his wife in early April visited the crash site — a marker is in a field where the plane went down — he thought they would be about the only ones there."In the time that my wife and I walked the quarter of a mile down there to the memorial and back, we met 10 other people who were going to look at that crash-site memorial, which I thought was a tremendous testimony to Buddy Holly's influence all these years later," Smith said. The Buddy Holly Center in Lubbock attracts about 35,000 to 40,000 visitors annually, Smith said. The Rock and Roll Hall of Fame in Cleveland, of which Holly was a charter member, requested an autographed copy of Smith's book for its archives. Smith's previous subjects he has written about have included the assassination of President John Kennedy, Gov. George C. Wallace, Apollo 11, President Grover Cleveland, and the atomic bomb. To learn more about Smith's books, visit www.newfrontierpublications.net.
Sent in by Lothar Pedd