| | |
| --- | --- |
| | |
| | BUDDY HOLLY LIVES |
THE LAST TOUR - Davenport - 24 January 2009

Mary Kay Stein sent in these photos,

thanks a lot, Mary Kay.

Dies sind Fotos von der letzten Tour, die Tommy Allsup, Johnny Rogers, Richie Lee

und die Shackshakers im Gedenken an Buddy Holly Ende Januar 2009 wiederholten.

Dabei besuchten sie die Orte, in denen Buddy bei der WDP 1959 auftrat.

This is the first and most exciting photo from Davenport for me. I call it

" SHADOW ON THE WALL ". Looks as if Buddy Holly is standing beside Tommy.

SHADOW ON THE WALL - Tommy Allsup

Das erste Bild hat mich emotional sofort in seinen Bann gezogen. Im ersten Moment

erschien es mir, als stünde Buddy Holly neben seinem Partner Tommy Allsup.

Johnny Rogers

Tommy Allsup and Johnny Rogers

Johnny Rogers and Tommy Allsup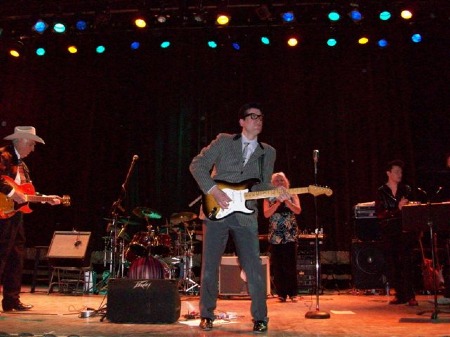 Tommy Allsup and Johnny Rogers

Tommy Allsup and Johnny Rogers

Johnny Rogers

Tommy Allsup and Johnny Rogers

Tommy Allsup

Paul King and Johnny Rogers

| | |
| --- | --- |
| | |
| | WE'LL ALWAYS REMEMBER . . . |
Buddy Holly lives - Buddy Holly lebt - Buddy Holly vive - Buddy Holly vit - Buddy

Holly leeft - Бадди Холли жизнь - Buddy Holly elämää - Buddy Holly ζωές - दोस्त

होली जीवन - Buddy Holly kehidupan - Buddy Holly saol - Buddy Holly búpeningur