Es gibt Fans von Buddy Holly, die tun wirklich alles,

um die Erinnerung an ihn wachzuhalten, koste es,

was es wolle, im wahrsten Sinne des Wortes.

Diese Intro habe ich geschrieben, um auf einen

deutschen Fan aufmerksam zu machen, der entschied,

an die Öffentlichkeit zu gehen, um den Namen

BUDDY HOLLY und die Erinnerung an ihn nicht sterben zu lassen.

There are Buddy Holly fans, wherever they may live,

who try to do everything to keep the memory alive.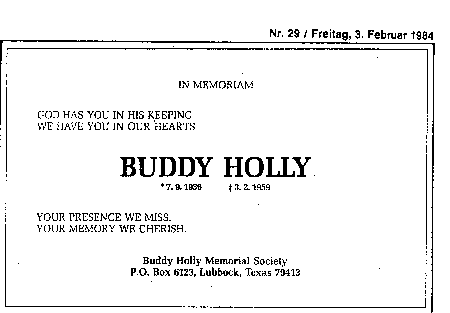 In der NRZ in Kleve konnte man am 3. Februar 1984 diese Anzeige lesen, die Rolf Ahrens, bekennender Buddy Holly Fan und Mitglied der Buddy Holly Memorial Society, auf eigene Rechnung schaltete.

IN MEMORIAM

GOD HAS YOU IN HIS KEEPING

WE HAVE YOU IN OUR HEARTS

BUDDY HOLLY

7.9.1936 3.2.1959

YOUR PRESENCE WE MISS

YOUR MEMORY WE CHERISH


A German fan of our mutual Buddy paid for this remembrance ad

in a German newspaper in 1984 on the day the music died.

I can feel the passion.

Hats off to Rolf Ahrens, who sent in this gem for my fanpages.