The "Early" Rolling Stones. Their very first hit single was the Buddy Holly song NOT FADE AWAY .

Some vinyl singles and EP's and a lot of albums, as there are:

12 x 5

A Bigger Bang

Aftermath

Beggars Banquet

Between the Buttons

Black and Blue

Bridges to Babylon

Charlie Is My Darling

December's Children

Desert Island Survival Kit

Dirty Work

Emotional Rescue

Exile On Main Street

Flowers

Get Off Of My Cloud

Goats Head Soup

GRRR! (Super Deluxe Edition)

Hot Rocks 1964-1971

It's Only Rock 'N' Roll

Jump Back

Let It Bleed

Metamorphosis

Out Of Our Heads

Rarities 1971-2003

Rock & Roll Circus

Rolled Gold Plus

Some Girls

Some Girls (Deluxe Expanded Version)

Steel Wheels

Sticky Fingers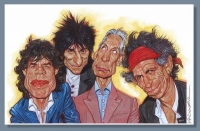 Sweet Summer Sun

Symphonic Music Of The Rolling Stones

Tattoo You

The Rolling Stones, Now!

The Rolling Stones, 1964

The Rolling Stones, 2010

The Rolling Stones No. 2 UK

Their Satanic Majesties Request

Through The Past Darkly

Undercover

Voodoo Lounge

Die Rolling Stones waren für mich immer die bessere Gruppe in
dem Wettstreit Beatles-Stones. Sicherlich waren die Beatles allesamt
Genies, aber es kommt ja auch darauf an, wieviel so bei einem Titel
rüberkommt, da waren Mick Jagger und seine Kumpels immer
mindestens eine Nasenlänge vorn für mich.

Ich kann mich noch gut daran erinnern, irgendwann kurz nach der
Veröffentlichung von "Satisfaction" das Intro des Songs als
Partyvorbereitung in einem Keller einer Nachbarstochter in grossen
Lettern dort an die Wand gepinselt zu haben. Man glaubt es kaum,
das "Gemälde" hat die Jahrzehnte überdauert.

Es könnte nun eigentlich, wäre ich Joseph Beuys, für ein
Schweinegeld (das Haus gibt es dann gratis dazu) versteigert
werden, wie etwa das an die Wand geklatschte halbe Pfund
Butter, aber das ist eben der Unterschied, der eine ist Fan, der
andere macht mit SCH... Geld. Ich kann es verschmerzen.


Auf der DVD "Rock and Roll Circus" fand ich zu meiner
grossen Überraschung während des Vortrags von "JUMPING
JACK FLASH" plötzlich eine Grossaufnahme eines Bierglases der
Dortmunder UNION Brauerei, es stand auf dem Piano direkt
neben der Akustik-Gitarre, die dort bei der Aufführung auch
gespielt wurde.

Eine zweite Einblendung folgte später auch noch bei diesem Titel.
Wie um alles in der Welt kamen die Rolling Stones 1968 in
London zu so einem Bierglas aus Dortmund ?



Wo hatten sie das wohl "mitgehen" lassen? > > >



In unserer Jugend waren wir ja auch manchmal Sammler dieser besonderen Art.

Infos erbeten.


I liked the Stones from the very first moment, winning the fight against the Beatles, there was more enthusiasm coming over, the Beatles were more commercial, the Stones did not have this touch for me, they were wilder and their songs were absolutley great.

As you know, my home town in Germany is Dortmund, well known for the very famous beer from Dortmund, the so called "DORTMUNDER". Some time ago I bought a DVD from the ROLLING STONES called "ROCK AND ROLL CIRCUS", a real gem in my Stones collection. It was a 2 days concert in London in 1968, with artist from the circus and guests, John Lennon, Yoko Ono, The WHO, Marianne Faithfull, Jethro Tull, Taj Mahal, The Dirty Mac, . . .

Watching this fabulous DVD for the first time I was happy to have such a historical session in my archive. Then suddenly I stopped the player, 'cos I saw something absolutely unbelievable for me coming from Dortmund, the town with so much well known breweries at that time. The ROLLING STONES performed "JUMPING JACK FLASH" and the camera hit a beer glass on stage, directly beside the acoustic guitar on the piano. This glass was produced for the Dortmunder UNION breweries.

Sensational, in 1968 in London. Where did Mick Jagger and his mates get this glass from?